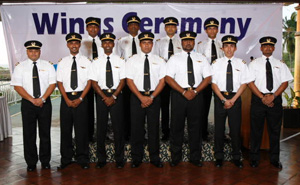 SriLankan Airlines continues to provide the country's best and brightest young men and women with opportunities for challenging and rewarding careers in the international civil aviation industry, the airline said this week.
The airline recently completed the training of 11 new Junior First Officers (JFO) who successfully completed its prestigious Cadet Pilot Training Programme. The new JFO's received their 'wings' at a ceremony recently in the presence of their family members.
The airline's Head of Human Resources, Pradeepa Dahanayake, said: "The Cadet Pilot Training Programme is a source of immense pride for our airline. Each of these young men have now realised their childhood dream of becoming an airline pilot, and we are pleased to welcome each one of them to the international airline industry."
Capt. Pedris, one of the most senior Captains at SriLankan who was the Chief Guest at the ceremony, said: "These young pilots are fortunate to be in an airline which protects its staff at a time when other airlines are laying off employees including pilots, and each of them must give their fullest co-operation to our National Carrier. They should make the most of this opportunity to enjoy their flying, continue their education by earning further qualifications, and travel around the world."
Three of the new JFO's are former officers of the Sri Lanka Air Force, whose dedication to the country has been recognised by the National Carrier. SriLankan often provides mid-career pilots from the SLAF with opportunities to earn greater rewards after they have served the nation.