While laws delays could be attributed to lawyers and litigations usually take a long time to settle, the concept of ombudsman is now proving to bring in quick relief, according to Dr Wickrama Weerasooria, Insurance Ombudsman.
Speaking at the regular Key Person's Forum organized by Small and Medium Enterprise Developers of the Federation of Chambers of Commerce and Industry of Sri Lanka (FCCISL) and Friedrich Naumann Foundation (FNFt) in Colombo recently, Dr Weerasooria said the ombudsman is a greater player on alternate dispute resolution. He said that in Sri Lanka several ombudsmen operate such as Parliamentary Ombudsman, Financial Ombudsman, Insurance Ombudsman, Tax Ombudsman and Tourism Ombudsman.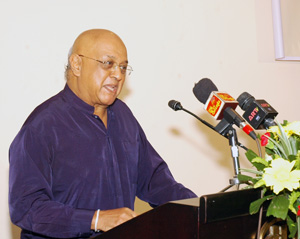 Dr Wickrama Weerasooria
In his comments released to the media by the FCCISL, he was quoted as saying that the discharge of services of the ombudsman depended on the integrity and the independence of the person who holds the position. He said that there are 15 insurance companies in the country and all these companies agreed to work with the ombudsman. In the proceedings of the ombudsman there are no lawyers and no legal rules and no rules of evidence.
The conclusions are just, reasonable and equitable.
He said that he maintains independence and integrity. He said that when a complaint is received he writes to the insurance company, and if they do not reply within a reasonable time, he said an inquiry is set up and a written statement is insisted to find out why they do not pay. The file is called for and by perusing the file Dr Weerasuriya said that they could quickly arrive at a decision and find out why insurance companies do not honour the claims.
If it is legally possible to prescribe a payment, it would be done so. He said that the procedure of the ombudsman is very simple and not sophisticated and saves tremendous time, unlike the legal proceedings that take ages.
He said that the ombudsman is privileged to go through the files to scan through it for injustices, so that the ombudsman could do it very quickly and order a cash payment out of good faith and if a legal payment cannot be made, a request would be made.
He said that except one case, in all other cases insurance companies agreed with his decisions and payments were accordingly made. He said that both parties are happy and satisfied as the ombudsman saves a lot of time.