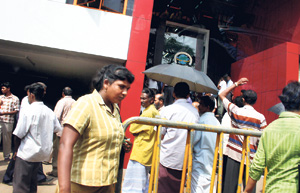 Outside the passport office
The Department of Immigration and Emigration (I&ED, according to its revenue figures for 2008, has received a staggering income of Rs 3.65 billion while expenditure for that year was just Rs 900 million showing a gigantic profit of Rs 2.75 billion, says P. B. Abeykoon, Controller-General of Immigration and Emigration.
For a government institution that is rendering a public service to the people, some analysts question the right to make such huge profits at the expense of the people. If such overwhelming profits are made by the private sector, government would itself make a public outcry against such profiteering, these analysts say.
The I&ED was established in 1949 and is celebrating its 60th anniversary. The original purpose of setting it up was to issue citizenship certificates to a large number of Indian origin people and only a 100 passports were issued annually in the formative years.
Mr Abeykoon told The Sunday Times FT that they discourage the one-day (passport) service as it is expensive and encourage more and more people to go for normal service they have for Rs 2,500. Mr Abeykoon said that they are not exploiting poor women who seek employment abroad and said that normal service charge for Middle East is only Rs 1,000 normal service and same day service it would cost Rs 2,500. He said that for pilgrims emergency passports are issued at the rate of Rs 500 only.
He said that whoever who wants to avail themselves of the same day service, they have to come to the head office in Colombo.
There are three branches in Kandy, Anuradhapura and Matara but none in the North or East. These sub offices issue normal time passports and in these branches passports are issued by the lapse of five days whereas the normal service in the head office would take 10 days.
Everyday around 2,500 applications for passports are received currently and the same number of passports is issued daily, as though the cost of same day issue is three times more than the normal passport, many people opt to obtain the passport within the day.
He said that Tamils are not discriminated in his office and if the applicants fulfill the requirements, irrespective of differences of race, religion or ethnicity passports are issued. He said that around six years ago before changing to the new concept, they have studied the systems adopted in other countries like Australia and New Zealand and where appropriate they have picked up certain areas to change and adopt. This is possibly the only government department that maintains a Research and Development unit.
They have got the services of three consultants from Australia and on the findings of their report certain changes were made, but as a state agency they have to follow government rules and regulations and all the changes are keeping in mind these regulations. He said that the name of their established was changed to 'Sri Lanka Immigration and Emigration.'
When asked, Mr Abeykoon conceded that these changes are the way forward towards commercialization. He said that sometime back Transparency International castigated I&ED as they were among the 10 worst, corrupt government institutions. But today the entire concept has been changed to be adjudged as the best government agency in a competition conducted recently.
I&ED has shown that for Rs 2,500 a passport could be issued whether it is by 10 days or one day. He said that to issue a passport by one day, more staff has to be deployed, more resources have to be utilized and additional machinery has to be utilized. In this process he said that the workers are paid incentives and are working overtime.
Mr Abeykoon did not comment, when asked as to why offer incentives to discharge a public duty and whether it sounded as a bribe to cover up the inefficiency. He said that earlier when a passport was to be obtained urgently, the practice has been by influence with a letter from a Minister and that led to lot of corrupt practices in the I&ED. By introducing the same day service since 1990, he said that corrupt practices have come down almost to zero.
He said that earlier the same day service was only for a privileged class of people who could get letters from Ministers etc. But now by paying extra money anybody could get this facility. He said that these systems are in operation in other countries too and in countries like Australia and New Zealand to discharge same day service they too charge 3 to 4 times more than the normal service.
He said that they have become very efficient and tough payments have to be made, the best service is offered. He said that anybody can complain to him if there are any grievances and they are sorted out almost immediately.