The United National Party (UNP) yesterday called on its party membership to get ready for a snap general election in the coming months. UNP chief Ranil Wickremesinghe told the party's National Executive Committee, at a meeting held at party headquarters Sirikotha, that the country was on the verge of a financial crisis and that the government would have no option but to go for an election.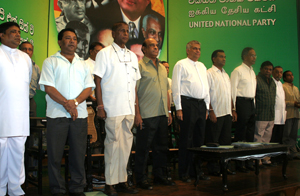 UNP Leader Ranil Wickremesinghe and senior members standing up for the National Anthem at the party's National Executive Committee at Sirikotha yesterday. Pic. by Gemunu Wellage
"Inflation is at 30 percent today and the unemployment level is high," the Opposition leader said. "US$3.5 billion is needed to pay back the government's short-term loans, but we have only US$2.5 billion. The government has asked foreign financial institutions for US$300 million. How much money have they given to this government with confidence in its policies? Not a cent. How is the government going to pay back these loans?
"Before it comes to a point where the economy will go out of control, the government will have to go for an election. We must be prepared to face such an election," he said.
The Opposition leader said Sri Lanka was one of two Asian countries that the International Monetary Fund and other international bodies have identified as having an irredeemable economy.
"The government has not been able to reduce fuel prices to reflect a reduction in world market prices. A barrel of crude oil is now sold at US$ 45, but here a litre of petrol is sold at Rs. 142 and diesel at Rs. 80. Countries like the US, India and China are offering concessions to the public by bringing down fuel prices, but this government hasn't been able to do that," Mr. Wickremesinghe said.
UNP chairman Rukman Senanayake told the gathering that the government was taking every possible step to undermine the UNP. He appealed to party members to take the party message to the grassroots level.
"At a time when lying and cheating have become commonplace, at a time when all sorts of mudslinging is aimed at the party, all of us should stand up and do something," he said. "The government has taken every possible step to destroy this party. No party has ever done the service the UNP has rendered for this country." Meanwhile, UNP general secretary Tissa Attanayake said the government had allocated millions to revive the airline Mihin Air, while claiming the state was short of funds to provide relief for the public.
"When we voted against the budget, some people in the government said we voted against the war. The government says is has no money, but it has the money to fund Mihin Air. We say this is a budget with no benefits for the masses," Mr. Attanayake said.