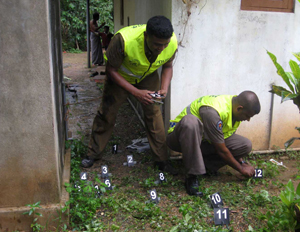 Scene of crime : Police officers marking the spots where the casings of the bullets fell after the shots from the suspect's gun was fired. Pic. by Athula Bandara
The soldier arrested in connection with Friday evening's shooting in Nochchiyagama was due to be produced in court yesterday, Senior DIG Jayantha Gamage said.
He said the police would be conducting separate investigations into this shooting. Three soldiers were killed and 13 others injured in an alleged accidental shooting at a military training camp in Lindawewa, in the Nochchiyagama area on Friday evening.
The incident took place during a training session in which a large number of soldiers participated. The injured were rushed to the Nochchiyagama hospital and the seriously injured transferred to the Anuradhapura hospital.