The Locomotive Operating Engineers' Union (LOEU) said on Friday that contrary to the opinion of certain officials, locomotive drivers are not entirely to be blamed for railway accidents.
The comments came as trains were delayed on Friday due to signal defects leading to protests by angry commuters who attacked railway property. At least 25 persons were arrested by the police on Friday night over the incident.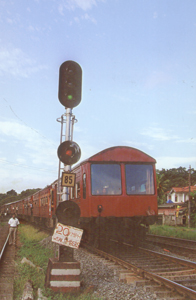 The signal shows green, instead of red (as it should) even though the entire train had passed the signal post.
LOEU Secretary M. Karunaratne said engine drivers have to run trains safely while contending with substandard equipment such as faulty signals. Referring to the recent train accident at Ganemulla where an intercity train rammed into the back of another train resulting in one passenger being killed, union officials insisted that the main reason for this unfortunate accident was that the light signals did not function properly at the time.
According to the LOEU, light signal no. 129 - the final signal before approaching the Ganemulla station - was showing amber/yellow (caution) which indicated that the train could proceed till the next light signal. However, to the engine driver's surprise, there was a train stopped at the station before the next light signal.
In another incident in Ragama on October 23 when the very same intercity train was passing light signal no. 85 to enter the Ragama Railway Station, the signal had continuously showed green instead of switching off and showing red (danger) which is how a light signal should normally function when the leading pair of wheels of a train engine presses the electric circuit terminals fitted to the rails near the foot of the light signal.
According to Mr. Karunaratne the engine driver had immediately halted the train on noticing the defect and had informed the Colombo Trains Controller at whose request the entire train was reversed until it moved behind light signal no. 85. Then the train was moved forward again until half the train was ahead of the signal post and the other half behind the signal post. However the light had continued to show green."By this time senior railway officials and train controllers who were present at the light signal accepted that this signal was defective," said Mr. Karunaratne.
If that defect was not readily brought to the notice of the officials at the cost of a considerable delay to the intercity express train, Mr. Karunaratne said another tragedy would have occurred at Ragama similar to that of the fatal train accident in Ganemulla.