A new row has broken out between the International Committee of the Red Cross (ICRC) and the Commissioner General of Essential Services over the distribution of Indian food and relief supplies to civilians in the Wanni – with both insisting they should carry out the task.
The ICRC Regional head Francois Stamm said in a statement from New Delhi that his organization "will be distributing the aid provided by the Indian government directly to the displaced people and residents affected by the conflict in the Wanni. We will do so in accordance with our own independent assessment of people's needs."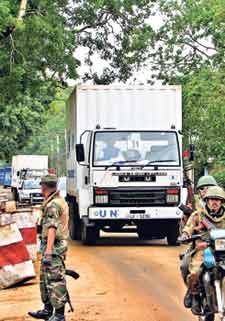 A convoy consisting of 66 lorries left for the Wanni on Friday carrying food aid under UN banner. The convoy is said to be the largest ever sent to the LTTE area after the troops captured all entry-exit points in recent battles. Pic by Priyantha Hewage
The move drew an angry response from Essential Services Commissioner General S. B. Divaratne. "The ICRC has no ethical right or the capacity to distribute food in the Wanni," he told The Sunday Times yesterday.
"The food items taken to the ICRC warehouse in Puthukudiyiruppu will be distributed by the Government Agent. We have not changed the position. It is the Government which has the mechanism to distribute food. We need to ensure that the food and relief items do not go to the LTTE. We have a mechanism in place for that purpose," the commissioner said.
However, it is not clear how the LTTE will be prevented from drawing food stocks sent to the Wanni. In the past, it is known that the LTTE has interfered with distribution of state food supplies.
Mr. Divaratne said the distribution of food in the Wanni was carried out in what he called a proper manner by the Government Agents. The World Food Programme and the GAs had issued a card to each family and only these families would be entitled to the assistance.
"Even for the Indian relief aid, the same procedure will be followed. It is only the government which can carry out the distribution," Mr. Divaratne added. India last week sent 1,700 tons of rice, soap and clothes. Since arrival in Sri Lanka, they have been packed in 80,000 sachets. They were screened for security reasons before being sent to the Wanni.
The ICRC's Colombo Co-ordinator Aleksandra Matijevic told The Sunday Times that Indian aid packs would be transported by the ICRC and distributed through its own network.
The Indian relief supplies were sent to Sri Lanka following talks between special presidential envoy Basil Rajapaksa and Indian Foreign Minister Pranab Mukherjee in New Delhi. A Joint Statement issued after the visit said, "Government of Sri Lanka will facilitate the delivery" of Indian aid.