Sri Lankan Buddhists based in Norway will soon have a temple of their own, thanks to the efforts of the Tisarana Sri Lanka Buddhist Association in that country.
The temple will be more than a place of worship and meditation – it will also be a resource centre and a cultural link to Sri Lanka, said Nirmala Eidsgaard, chairperson of the Tisarana Sri Lanka Buddhist Association in Norway. "For young people, especially those born and raised in Norway, the temple will help to reinforce their cultural identity," she said.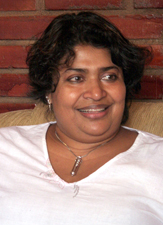 Nirmala Eidsgaard
Norway has temples for the Vietnamese, Thai and Tibetan Buddhist communities, but none so far for the Sri Lankan Buddhist community. Tisarana organises various activities for Norway's Sri Lankan Buddhist community. These range from Dharma lectures and meditation groups to sil programmes and religious celebrations. The activities are usually graced by the presence of Buddhist monks from temples in Europe and Sri Lanka. The Norwegian centre, set up in 1993 and with more than 160 registered members, is also engaged in projects to help Sri Lankans back home, including providing aid for tsunami victims.
Ms. Eidsgaard said the proposed temple would play a central role in the life of Norway's Sri Lanka Buddhist community by providing a venue for religious observances on special days, such as Vesak, Poson and Vas. The temple will have a devotional hall and a library, and there will be space for meditation and language classes.
"We have long felt the need for a temple," Ms. Eidsgaard told The Sunday Times. "Having a temple with resident monks would be a great help in organising religious activities.
"Children in Norway learn about all religions. The schools teach a subject called Religion, Philosophy and Ethics. Among other things, the temple would give Norwegian students an opportunity to learn more about Buddhism," she said.