Fund raiser for the Galle Film Festival Gala closed last Sunday with a glittering Asian Premiere of Rang Rasiya (The Colours of Passion) followed by a Bollywood party held at Tamarind Hill.
Director Ketan Mehta and lead actors Randeep Hooda, Nandana Sen and Ferena Wazeir who flew straight from the world premiere in London, to a packed 'Hall de Galle'. The film received a standing ovation from an eclectic audience made up of Galle Fort residents, Colombo glitterati and expatriate locals.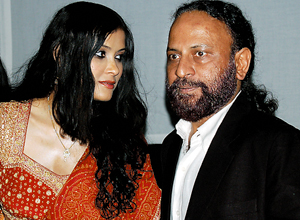 Actress Nandana Sen and director Ketan Mehta
"I loved the location and setting," said Nandena Sen, "it was an intimate setting, the crowd was warm and genuine unlike other more formal premieres and I would love to act in a film made in Sri Lanka."
The Galle Film Festival which is scheduled to launch in 2009 aims to become the leading festival in South Asia within five years time, the festival director and filmmaker Boodee Keerthisena said. The fundraiser which took place over the weekends of October 26, 27 and November 1 and 2 also saw the Asian premiere of Paul Schrader's new film Adam Resurrected and free screenings of a number of Sri Lankan classics of filmmakers like Dr. Lester James Peries, Ms. Sumithra Peries, Dharmasiri Bandaranayeke, Prasanna Vithanage, Asoka Handagama and Vimukthi Jayasundara.
The Galle Film Festival Gala Fundraiser also offered a taste of its new Universal Forum in association with the United Nations Development Program (UNDP) with a screening of their film on hunger called 'Food for Thought' directed by Jason Taylor.
The Forum to be held at the Film Festival next year will focus on the ways how different issues can be raised, change agendas and affect real change in the world. The main 4-day festival in 2009 is scheduled to screen up to 40 Sri Lankan, South Asian and international films and also to provide a full programme of workshops, lectures, panel discussions and post-screening question-and-answer sessions. The festival would cover a number of genres including Sri Lankan film, award-winning feature films from international filmmakers, including work from emerging filmmakers and documentaries.
The event was also supported by the Sri Lanka Tourism Promotions Board.