Engineer in profession, Indika Wijeratne has entered cinema with his maiden production 'Kanyavi', a story about a woman and the struggle she undergoes in society. Directed by Sirithunga Perera, the film is to start its shooting from the beginning of next year with a star-studded cast and experienced crew.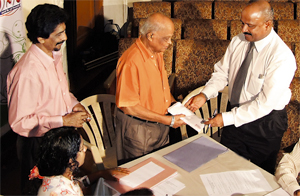 Indika handing over the agreement to Master Khemadasa
Born in Karandeniya, Galle, Indika was interested in arts and cinema as a student of Yatigala Central College. Having pursued his career in engineering Indika obtained a diploma from Open University and started his career in Ganga Nimna Development Board and later joined a number of local and foreign companies in the engineering field. Indika also has worked as an advisor to the country's leading engineering firms and as a managing director.
From engineering, Indika entered arts in 2002 as the General Secretary of Sri Lanka Eksath Tower Hall Shilpinge Sangamaya (Sri Lanka United Tower Hall Artistes Association). Forming 'Sarasavi Kala Pela' Indika took the initiation to work for the development of Sri Lankan stage and organised a number of stage plays. His service to theatre was recognised by the Tower Hall Rangahala Padanama (Tower Hall Theatre Foundation) with special identity he was awarded.
He got interested in documentaries and has produced a number of documentaries for television and produced cassettes for a number of veteran artistes like Shelton Premaratne, Victor Wickremage, Rohana Siriwardena and Siritunga Perera.
With Cine Vision Lanka, Indika is producing his maiden film 'Kanyavi', a film scheduled to be released next year..
"Joining cinema was one of my childhood dreams," Indika says. Though the Sri Lankan cinema underwent a difficult period we can see some positive progress taking place and 'Kanyavi' is a contribution to this development," Indika said describing his decision to produce a film.
Master's last melody for 'Kanyavi'
Late music maestro Premasiri Khemadasa who is hailed for the big role he played for the development of Sri Lankan cinema music did his last melody for the theme music of 'Kanyavi'.
Having undertaken to write musical score for the film, Master Khemadasa completed the theme music for the film and had prepared the melody for the theme song before his demise.
"Kanyavi will record as the last film, Master undertaken to direct music," Indika said. Dr. Khemadasa's two daughters Anupa Khemadasa and Gayathri Khemadasa have takn over the responsibility of completing the music direction for the film as an honour to their father.