'Arungal', the second directorial venture of award-winning teledrama director, Lalith Ratnayake presents a novel story to teledrama audience. Telecast every Sunday at 8 pm on ITN, it revolves round an estranged relationship between a young man and his stepfather.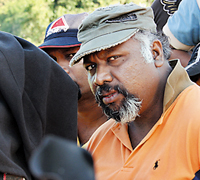 Director Lalith Ratnayake
A novel theme, storyline and presentation different to hackneyed melodramas around family problems, 'Arungal' digs into deep relationships that bonds people and their affection and closeness to aesthetic interests.
This emotional tale of an unsophisticated family living in a remote village depicts how a minor incident can turn their lives, way of living and relationship upside down. The story revolves around the stepfather ably played by Jayalath Manoratne and his stepson and blind stepdaughter and his family.
With this 32 episode play, Ratnayake brings our attention to the difficult lives in poor far off villages where people fight against poverty and suffer with lack of basic facilities. Having seen a condensed version of the teledrama recently at the Russian Cultural Centre, a number of veteran artistes and intellectuals had concluded that 'Arungal' as a powerful story written with pictures.
Lalith created the setting for the village 'Mahahaththparuwa' in a place off Anamaduwa. Directing his maiden teledrama 'Theth saha Viyali, 'Rat nayake won all the major awards at SIGNIS, Sumathi and State Tele awards in 2006. He came to limelight with the telefilm 'Vishama Baga' which he produced for World Children's Day 2004. The direction which focused on the extraordinary talents of children was awarded the Best Telefilm in that years and received rave reviews.
Having done almost all his direction on issues related to children, Lalith says "I like to relate stories that touch the hearts of children and their world. Educated at Galahitiyawa Central College, Lalith's completed his education in the science stream. With interest in arts and film, he took up to assisting teledramas and films and did his first teledirection for 'Sansara Piyasatahan', a poyaday drama.
The cast for 'Arungal' include a number of award-winning artistes including Jayalath Manoratne, Chandani Seneviratne, Jayani Senanayake, Mauli Fernando, Buddhadasa Vithanachchi, Douglas Ranasinghe, Umali Thilakaratne, Vasantha Vittachchi, Nayani Maheshika, W. Jayasiri, Berty Nihal Susiripala and Kingsley Loos in the main cast.
Saman Priyankara produced Arungal while Sisira Amarabandu was the Production Executive.
Sarath Wickrama wrote the musical score and edited by Tharanga Kumarasinghe and Dhammika Dissanayake handled the camera.
Vasantha Vittachchi was the make-up artiste, Manjula Ayagama was the art director and D.D. Gunasena rendered the voice.