Some 350 employees of a garment factory at Karuwalagaswewa in Puttalam were in for a rude shock when they reported to work on Friday morning after their Thursday night's sleep. The factory where they worked morning and night for ten years was closed. The sewing machines and other machinery and equipment were also missing.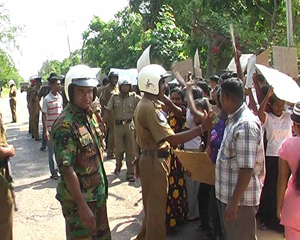 Garment factory employees take to the road in protest
To their horror and dismay they found out that the owners had closed down the factory and removed the machines. They did not know what to do. They resorted to stage a protest.
They burnt tyres and interrupted traffic on the road. Police and local politicians rushed to the area to bring the protest to an end. The protesters were calmed after they were assured of a fair deal.
They were probably the victims of the financial crisis that is gripping the world. Well, that was what the management of Misra Garments, the owners of the factory, told The Sunday Times.
There was a drastic reduction in foreign orders, forcing the management to close down the factory, Misra Garments owner Bernard Shanmugalingam said. Usually, during November the factory received orders from the United States for around 400,000 pieces of garments, but this year, the factory owner said the order was only for a 100,000 pieces.
But the employees said they were not informed about the closure. They turned up for work on Thursday and some of them worked late into Thursday night. They said there were signs that the company was facing some financial difficulties but they never thought that the management would close down the factory without informing them.
The factory had been providing night transport to the workers. This was stopped and the workers were paid a transport allowance to cover their bus fare. Even this payment was stopped a few days ago, the employees said.Mr. Shanmugalingam said that apart from a fall in the foreign orders, the employees' lack of cooperation at a time of crisis also led to their decision to close the factory.
"The employees did not cooperate well, especially when we want to meet bulk orders. They were reluctant to work night shifts and wanted to go home early so that they could avoid wild elephants roaming on the roads in the night," he said.
He said the company had another factory in Hanguranketa and work there would continue.
Asked about the plight of the Karuwalagaswewa factory employees, Mr. Shanmugalingam said he would pay them financial compensation but he had no plans to reopen the factory.
On Friday, Labour Department officials called for a meeting between the management and the employees. An employee said many of the workers were married and had children and they had no alternative employment in the area. "We will be on the roads now without jobs. Some of us have worked in this factory for ten years," he said.