President's Counsel Lakshman Chandra Seneviratne (more popularly known to the Bar as 'L.C') will be felicitated next Tuesday (Nov. 11)on completion of 50 years as a legal practitioner.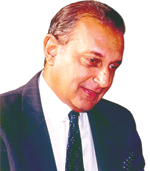 President's Counsel Lakshman Chandra Seneviratne
L.C. Seneviratne was called to the Bar on 17th October 1958 as an advocate at the age of 22 years. He holds a BA (Hons) and LLB (CANTAB) degree and qualified as a Barrister–at–Law from Lincolns Inn.
Whilst commanding an extensive practice in the Appellate Courts of the country, Mr. Seneviratne's specialty lies in the fields of Land Law, Partition Law and Fundamental Rights Law. He has been involved in a series of landmark cases.
Hailing from his ancestral domain in Ratnapura the former Thomian has held numerous responsible positions in the legal framework of this country. Mr. Seneviratne is a former Deputy President of the Bar Association of Sri Lanka (BASL) and a former member of the Council of Legal Education of Sri Lanka. He also serves as a member of the Law Commission of Sri Lanka.
Mr. Seneviratne was conferred silk in the year 1985 and is one of the most senior and respected President's Counsel in the legal fraternity. During the initial years of practice Mr. Seneviratne had the distinction of devilling in the chambers of some of the giants in the profession, namely H.W. Jayawardena QC, Neville Samarakoon QC, Navaratnaraja QC, N.E. Weerasuriya QC etc.
L.C. Seneviratne is the son of late L.J. Seneviratne (the first Sri Lankan Secretary to the Treasury) and the late Seetha Seneviratne (nee Molamure). The felicitation dinner organised by his many juniors will begin at 7.30 p.m. at the Atrium Lobby followed by dinner at the Oak Room of the Cinnamon Grand Hotel