Family flies different party colours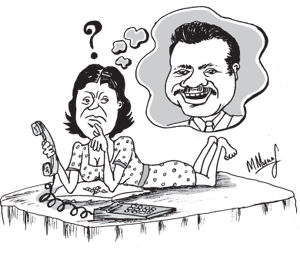 A journalist and a UNP MP were in the middle of a chat, during a break in Parliament sessions last week, when an MP of the fair sex who was passing by joined in the conversation. The lady happened to be one of those who had crossed over to the Wimal Weerawansa group, following the split in the JVP. The conversation turned to party loyalties. The lady MP then made the surprise revelation that all the members of her family were staunch UNP supporters, although she belonged to a leftist party. She said photographs of past UNP leaders had pride of place in her parents' home.
Gem of a story about ex-big shots
A former city father and his high-spending spouse, who were on a shopping spree the other day in Pettah, stopped their car outside a well-known jewellery shop on a famous "gold street". The woman, who may once have had some clout when her husband was in the hot seat at City Hall, seemed to have forgotten for a moment that her husband was now just another ordinary citizen, and she just another ordinary housewife.
Without getting off the car, she called out to the salespeople and ordered them to bring jewellery samples over for her to examine. The woman was jolted back to reality when the salesfolk not only refused to comply with her high-handed request but also shouted at the former VIP couple and ordered them to clear off, saying, "This is not a take-away joint!"
The hidden cost of trips to Iran
MR has sent M Squared on a visit to Iran – and that, too, at a critical time for the government, just after the Budget, when overseas travel for MPs should be sharply restricted. M Squared, who has had little or nothing of consequence to do of late, fell into the trap laid by MR. With each visit to Tehran, M Squared, who claims to have impeccable contacts in the land of Uncle Sam, is slowly and surely becoming persona non grata in that country. The other day MR was heard having a little laugh at the expense of M Squared: "Ohoma yanakota, minihage American connection tika tika diyawenawa." To which a close aide added: "Ohoma yan … ohoma yan."
Snap decision by Our Man in Washington
During the run-up to the US Presidential elections, it is normal practice for foreign diplomats based in Washington DC to attend party conventions, as a matter of courtesy and also to meet up with key figures (congressmen, advisers, etc) of the respective political parties. Our Man lost no time "leaking" a photograph of himself with the ultimate presidential winner, taken some time back, during one of the conventions. It looked very much as if both men were discussing what it felt like to win or lose.
Mission staff high on arrack watching 'Barrack'
The minor staff at our mission in Washington DC were in high spirits, watching the election results unfold as they sipped a Sri Lankan brew brought down specially for the occasion. Every little while a relative of one of the mission's senior staff would look in to say it was disrespectful to be getting drunk on arrack on a historic night that belonged to a certain Barack Obama. To which a high-spirited staffer replied: "Mei gollo Barrack Obama – api Arrack Bonawa!"
The Karuna Fan Club is growing fast
It looks very much as though a fan club of female admirers is fast gathering around UPFA MP Vinayagamoorthy Muralitharan, also known as Karuna. Several reporters and journalists say they have been approached by women asking for the former LTTE deputy leader's contact numbers. One especially smitten female sent Karuna a bouquet of flowers on his birthday, which fell last week.