The Government signed a Memorandum of Understanding on Tuesday with the United Nations Human Settlement Programme (Habitat) in Nanjing, China targeting slum upgrading in Sri Lanka.
Urban Development and Sacred Area Development Minister Dinesh Gunawardena and UN Habitat Executive Director Mrs. Anna Tibaijuka signed the MoU at the recently concluded third session of the World Urban Forum held in Nanjing.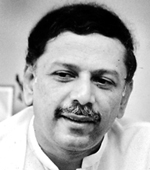 Dinesh Gunawardena
Minister Gunawardena headed the Sri Lankan delegation, which included Housing and Common Amenities Minister Ferial Ashraff, for this year's Forum themed 'Harmonious Urbanization: the Challenge of Balanced Territorial Development.'
He told the conference that in a time of global economic crisis, basic needs such as food, water and housing should be met with the highest consideration.
"At a time when $700 billion can be found overnight to bailout the richest bankers in the world and $1000 billion can be spent on one single 'war', sovereign wealth funds in far rich countries alone are at $2500 billion and growing, it stretches cruelty when we are told that the world can't find an extra $80 billion a year to meet the basic needs of food, water, sanitation and housing for the majority of the world's population," he said.
Minister Gunawardena said that Sri Lanka proposed to the World Urban Forum to call for an urgent meeting to discuss the collapse of the world financial system and its effects and to find alternatives to meet the objective of the World Urban Forum.
"While towns and cities are 'engines of growth' for the rapidly growing economies, unplanned and unmanned urbanization poses a serious threat to the very same growth. All urban areas in the region, big and small, face similar challenges of providing good governance, livelihood opportunities, adequate housing, water, sanitation, transport and other amenities to their residents," he said.