Opposition UNP leader Ranil Wickremesinghe told Parliament on Friday that the UNP's position on terrorism was that the problem required a "security response", and that long-lasting peace depended on a political solution based on democracy and acceptable to all parties.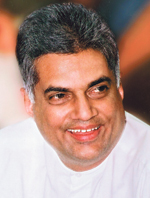 Ranil Wickremesinghe
Mr. Wickremesinghe said that he and other UNP representatives made sure the UNP stand on terrorism was conveyed very clearly whenever they met foreign dignitaries visiting Sri Lanka or when they went overseas on official visits.
"As far as we are concerned, we are for the territorial integrity of Sri Lanka, that terrorism has to be countered by a security response, maybe by the Army in some places, by the police in others," the Opposition leader said.
Mr. Wickremesinghe was clarifying his position during an exchange in which Chief Parliament Whip Dinesh Gunawardena alleged that the Opposition leader had spoken in support of terrorists, thus tarnishing the country's image, during his trips overseas.
Mr. Wickremesinghe said he reiterated the UNP stand on terrorism when he met with Lord Malloch Brown, Minister of State for Foreign and Commonwealth Affairs of the UK, during his visit to Sri Lanka, and again when they met in London.
The Opposition leader added that during the Presidential elections the LTTE had prevented people from voting, and that this had resulted in Mr. Mahinda Rajapaksa's victory.