Wild elephants often roam through villages in the Puttalam district after dark. In an earlier era many of these areas were covered with forest and used to be the habitat of the pachyderms. Today with forest cover fast disappearing with the increasing pressure on land for agricultural purposes, much of the forest has been cleared for cultivation.
Earlier this week elephants on successive days destroyed mango and other crops worth lakhs of rupees at the plantation in Ihala Puliyankulama in the village of Karuwalagaswewa. The damage is said to have been the biggest caused by wild elephants in this area.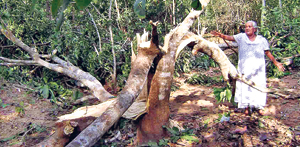 Silinona points to one of the trees smashed down by elephants.
The owner of the plantation 86 year-old W.K. Silinona a retired health worker was helped by her 95-year-old husband K.U. Banda. According to Ms. Silinona the plantation had been cultivated with cashew, coconut and other income yielding crops in addition to mango. On the first day she said the mango plantation had been destroyed. On the next day the beasts destroyed the rest of the cultivation.
The cashew and and coconut brought in a handsome income she lamented. She said appeals to counter the elephant menace had fallen on deaf ears and all her hard work had been in vain, "If the officials are not interested in human lives, at least for the sake of the animals something has to be done", the couple groaned.
The situation has reached such a state that villagers had to leave their homes in the night due to fear of elephants. The Wild Life Department she said had only provided piecemeal solution such as the lighting of crackers to scare the beasts away. No sustainable solution had been offered.