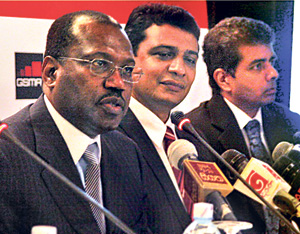 Dr. Hamdoun Toure speaks to the press
End 2008 will see Sri Lanka's mobile penetration to 50 % from the current 44 %, according to a senior telecommunications official. "With the fifth operator (Airtel) coming into play, we will see mobile penetration go up to 50 %," Priyantha Kariyapperuma, Director General Telecom Regulatory Commission (TRC) told the media after the 29th GSM Asia Pacific Conference launch on Monday.GSM (Global System for Mobile communications) is the most popular standard for mobile phones in the world.
Mr. Kariyapperuma noted that Sri Lanka is the first in South Asia to adapt GSM. In his inaugural speech, Dr. Hamdoun Toure, Secretary General International Telecommunication Union (ITU) noted that a 10 % increase in mobile penetration in the world is a 1.2 % increase in the annual gross domestic product of the world. "Such is the power of communication," he said.
He said there are nearly 3.3 billion telecommunication users in the world. "Very soon, the only difference between these users will be the power of the brains and the education of the people in different countries," he said. He said the technical sessions following the conference inauguration will see the 150 delegates from GSM networks representing 27 countries.
Addressing issues pertaining to restoring communications after natural catastrophes and meeting the challenges of climate change, the regulations required for tomorrow's market, fight against cyber crime, sharing of infrastructure, roaming charges and Interconnect Charge issues.
"There is a need for a global coalition for an emergency communication with regards to natural disaster. We need to work towards disaster preparedness and the challenges of climate change," he said.
Lalith Weerathunga, Secretary to the President and Chairman TRC, addressing the gathering noted while there are more positives in mobile telephony, it has also been an issue in gruesome terrorist attacks in the country during the recent past. "Therefore we need to bring in a certain regime into place," he said.
Mr. Kariyapperuma endorsed this saying that this pushed the government to instruct all mobiles to be registered for public safety.