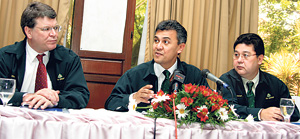 The MTD Walkers Chairman (centre) at the media briefing
With the company recording its first profit after five years, MTD Walkers Plc (formerly Kapila Heavy Equipment Plc) is set to bid for several toll roads in Colombo, according to a company official.
"We are looking at bidding for a few toll roads that are to come up in the Colombo city," Azmil Khalili Bin Dato Khalid, Chairman MTD Walkers Plc told The Sunday Times FT on the sidelines of a press conference this week to announce the company results.
Apart from this the company is also looking into Independent Power Producer (IPP) projects, building construction and any other infrastructure projects. MTD Group (the Malaysian parent of the local MTD Walkers) acquired Kapila Heavy for US$1.5 million a year ago through MTD Walkers. For 2007/2008, the company has posted a Rs. 39-million profit after five years of continuous losses.
Mr. Khalid said the company will grow both organically and through acquisitions. "We will pursue opportunities both in Sri Lanka and abroad," he said, adding acquisitions will be concentrated on infrastructure development firms.
Mr. Khalid said the management has an idea to bring MTD Group's other local investments under one umbrella – to be one with MTD Walkers. "MTD Group owns 60 percent of CML, which is a local company. They also own over 80 percent of Wincom Development, which got the contract in 2005 to build housing for government servants (this company is now building 1,100 units in Habaraduwa). We are looking at bringing in both these firms under MTD Walkers," he explained.
At the AGM of the company, in response to a question raised by a shareholder, he said that the company will be giving dividends when it can – probably after 12 more months when the company knows where it stands. "We are a long way away from dividends. We need to buy new machinery, find new markets amongst a host of other things. Now we have just begun to crawl. We need to stabilise before we start walking," he added.