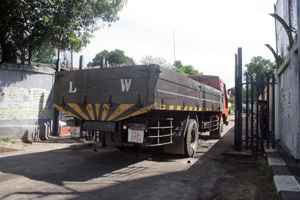 A truck going into the LMSL premises this week.
The Supreme Court judgment handed down this past Monday, in response to a motion by Lanka Marine Services Limited (LMSL), clearly stated that no action has been taken by certain respondents notwithstanding the judgment made by the Court. Proceedings also show that the Court, referring to Treasury Secretary and former PERC Chairman Dr. P.B. Jayasundera, stated that he continues to hold public office despite the adverse findings made by the Court on his conduct and notwithstanding the fact that the Court has found that he violated the provisions of the Constitution and thereby breached the oath taken in terms of Article 53 of the Constitution.
The Court stated that he is disqualified from holding public office. The Court also stated that notwithstanding the judgment made by the Court and the notification of that judgment to the 28th, 29th, 30th, 25th and 31st respondents (Inspector General of Police, Deputy Inspector General of Police, Chairman of the Commission to Investigate Allegations of Bribery or Corruption, Secretary General of the Securities and Exchange Commission and the Attorney General), no action has been taken pursuant to the judgment.
A petition to tender notices is to be served on the above respondents returnable on 29 September 2008. It will also be mentioned before the same Bench that heard the main case on 29 September. Regarding the motion by LMSL, the 19th respondent, the Court stated that the company had until 12 September 2008 to vacate the extent of land on Bloemendhal Road and to remove the bunker oil and lubricants on the property. The Court added that if for any reason the oil or lubricants are not removed by 12 September, whatever remains will be the property of the Sri Lanka Ports Authority.
According to court proceedings, LMSL made submissions that it was not possible to vacate the land earlier as directed by the July judgment as the workmen employed in the company have not assisted in the process of removal. Counsel for the petitioner, Mr. Vasudeva Nanayakkara, submitted that he has received instructions from his client who filed this application in the public interest that the workmen are concerned with the payment of their dues under the applicable law.
Under these circumstances, the court made the following directions. LMSL is granted time until 12 September 2008 to remove the oil and lubricants. The workmen will assist in this process of removing the oil and the lubricants if LMSL will deposit in a bank on terms and condition to be determined by the Commissioner of Labour, an amount calculated at the rate paid in respect of employees whose services were previously terminated by LMSL. Further, the said amount will he held as a deposit to be disbursed on the basis of an order made by the Commissioner of Labour subject to the legal rights of the parties.