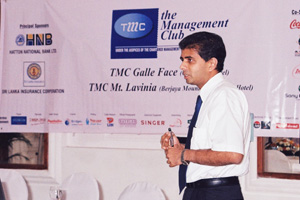 Dr Hans Wijayasuriya
Members of The Management Club (TMC) recently had the opportunity to listen to and interact with Dr Hans Wijayasuriya, Director / Group CEO of Diaolg Telekom Ltd, at the Galle Face Hotel. Dr Wijayasuriya explained how connectivity can empower the rural population in Sri Lanka and how today's empowered people may not be empowered in time to come due to rapid changes and advances in technology.
He described how inclusive marketing – making one's product or services available to as many as possible – rather than catering to an elite exclusive clientele, can help improve the quality of society. Details of his presentation were given in a press release by TMC.
Drawing examples from the telecom industry, which is close to his heart, Dr Wijayasuriya, said that 'we should aim to build a digital bridge to empower people and not a digital divide to have an exclusive customer base.'
The telecom industry has contributed immensely to the GDP growth in the country and also to the total economy and according to Dr Wijayasuriya one in two people in Sri Lanka will use a mobile phone by the end of next year and his thinking was that Sri Lanka as a country could certainly extend similar benefits to her people in many other sectors, such as Education, Health care etc too if "we empower our masses."
The Management Club, which recently had their fifth Annual General Meeting, plans to have similar evening meetings on a regular basis for its members and guests providing them the opportunity of gaining from the experiences and knowledge of versatile speakers who have excelled their own fields.