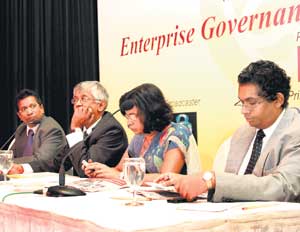 Picture shows – J.C. Weliamuna, Rohan Sahabandu – President's Counsel, Dhara Wijethilake, Secretary, Ministry of Plan Implementation and Manohara de Silva – President's Counsel.
A joint Association of Professionals in South Asia has been formed with an objective of improving transparency, accountability and governance leading to poverty alleviation. SAFA (South Asian Federation of Accountants) President Indrajith Fernando told The Sunday Times FT that the SAARC Chamber of Commerce and Industry, SAFA and SAARC Law have jointly formed this association. Nihal Rodrigo, former Secretary-General SAARC has consented to be special advisor to this organization.
A SAARC Charter on enterprise Governance and Social Responsibility is to be devised by the new Association. Addressing a conference on Strategic Enterprise Governance and Poverty Alleviation' at Waters Edge , Battaramulla , President SAFA Pakistan Shabbar Zaid said that it is essential to introduce a SAARC agenda for equitable economic growth. He added that, "We are busy in fighting the war against terror and there is no institution, forum, body or organization to focus attention on this matter". He stressed the need for introducing a strategy for a new sustainable economic development perspective. He pointed out that most of the South Asian Countries are facing problems due to the introduction of free trade without protectionism.
J.C. Weliamuna, Executive Director of Transparency International Sri Lanka emphasized the need for an Independent Anti Corruption Authority as there is a widely held public perception that corruption is rife in Sri Lanka. "There is also an urgent need to eliminate nepotism and cronyism in the appointment of senior public officials, to stamp out petty corruption, such as 'speed payments' in the civil service, and to tighten public procurement guidelines and open up the tender process to public scrutiny," he said He added that transparency is essential for economic development and to combat corruption in any sector.