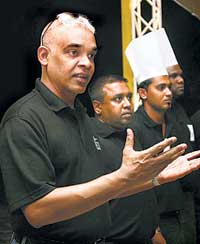 Picture shows Mr Gooneratne with his chefs, some of whom will be based in Male.
Harpo Gooneratne, a popular Sri Lankan Restaurateur in Colombo, is taking his home-made brand of "Harpos Pizza" to the neighbouring Maldive Islands, as part of an ambitious plan to expand into the SAARC region.
Mr Gooneratne whose Colombo restaurants include 'The Commons' Coffee House and 'The Bay Leaf', said he will also spearhead F&B operations at the 25 room Bed & Breakfast 'Park House' property in the capital Male, owned by Maldivian entrepreneur / hotelier Abdul Rasheed. He says the next stop, hopefully in South Asia, would be Bangladesh.
This week 'Harpos Pizza' celebrated a year in the Sri Lankan market. "The trial runs (in Male) proved very successful with an excellent feedback all round. Potential in the Maldives market is great. Since ours will be the only 'crispy base' authentic Italian pizza on the island, we are confident of a very high demand and thus good sales in the local market," he said in a statement.
The target market would be both resident Maldivians and expatriate hotel guests in Male. The operation will be initially run by three trained and skilled Sri Lankans with high speed delivery bikes taking the pizzas to customers across the island.
"Depending on the success of this operation in the capital Male, we plan to expand delivery to the adjoining resort islands and will then use the traditional dhonis and bikes for quick delivery," he said.