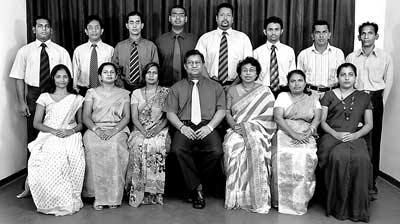 Picture shows seated from left - Ms. Thilini Keshala, Ms.Iranganie Peiris, Ms Nalika Gamlath, Herman Gunesekera (Managing Director), Ms Rizvia Sheriffdeen, Ms Iranganie Gamage and Ms Shiroma Damayanthi. Standing from left - S. M. Aravindan, Rohan Dassenaieke, Trevene Weinman, Vaithiyanathan Nanthagoban, Ruwan Jagathsiri, Shafraz Siddique, Lakshman Sirikumara and U.M.K.G.Somadasa.
Creative Services Limited (CSL), barely one week into its operations of the company, was confronted with one of the nation's ugliest and most forgettable events – the 1983 riots. Depressed though they were by the events that followed, the six young people led by Herman Gunesekera, a veteran ad man did not let it deter them.
Encouraged and sponsored by advertising and communications guru, the late Dr Anandatissa de Alwis, CSL was formed primarily to undertake conflicting accounts of the De Alwis Advertising Company. Mr Gunesekera who headed De Alwis Advertising from 1977, led the small team at CSL at its inauguration and is today the agency's Managing Director. "Although tough competition prevailed, there was a lot of respect shown to ethics at the time and following liberalization of the economy, the advertising industry flourished and naturally the competition between brands also increased. It was not right to handle competing brands or services. That's why we started CSL," Mr Gunasekera, recalled in a company statement issued to mark its silver -25th – anniversary.
CSL was incorporated in 1979 and though it did not function independently, the early stages were under former De Alwis's Art Director Srikantha de Silva and his wife Srimathi. It began operations as an independent, fully fledged and accredited ad agency in July 1983 under Mr Gunesekera.
Among its earliest clients was the Ceylon Petroleum Corporation's Agro Chemical Division. The single most important factor in the ad industry according to Mr. Gunasekera is the relationship that exists between the agency and its clientele. "We don't possess a long list of clients but are blessed with some of the best in the country." Clients of the calibre of Singer's Hemaka Amarasuriya, Asita Abeysekera and former Marketing Director Gamini Abeysuriya, Nimesh and Rajen Udeshi of Siedles, Sunimal Salgadoe of Suzuki Motors, Gamini Ranasinghe and Sumedha Fernando of Orient Financial Services are all very professional and therefore makes a huge contribution to successful advertising, he said.
Creative Services Ltd has won its share of Ad Awards too. Mr Gunesekera himself served as a Trustee in the last Chillies Awards. Being a veteran in the industry, he holds some positive views on issues facing the industry. In regard to the diverse views expressed over ad awards and the consistent controversies, he notes, "there will always be controversies over the awards simply because they are judged on creativity and creativity is subjective. I once proposed that the consumer must play a role in the awards and suggested that half the marks be awarded by consumers and the balance by a panel of people drawn from related disciplines. Unfortunately it was not taken seriously."
Mr Gunesekera admits that such a system would involve more costs and hard work but insists that it is the only way to ensure an acceptable 'controversy – free' system. In addition to the principles of working at ground level, CSL has laid down a strict code for 'Responsibility' in Advertising. "We insist on communicating the truth to the consumer. Irresponsible advertising is the bane of the industry.
We must engage in self regulation and protect the industry," adds Mr Gunesekera. He also recalls having worked on a draft document while serving as Secretary IAA, on establishing an Advertising Standards Authority. "We have to have a watch dog over Advertising and Marketing Communications." He says his one ambition prior to retirement is to ensure that such a body is established in the country.
CSL's operations are headed by Rohan Dassenaieke who joined the Agency just over a year ago. Mr Dassenaieke has been a designer and Creative Director and worked as a journalist and freelance designer at Upali Newspapers Ltd and Leader Publications (Pvt) Ltd.
CSL marked its 25th anniversary recently with religious observances, alms in memory of its founder and employees who have passed away and staff awards and celebrations and a memento to every member of the staff including those who had served the company over the past 25 years.