In recent weeks, we have read and seen horrifying accounts and pictures of innocent victims in bus and train bomb blasts. Some of the most agonising scenes are of relatives desperately trying to get news of the wounded and the dead.
The hospital staff at all levels work selflessly till late in the night doing their utmost to give medical aid, and the police and armed forces render all possible assistance.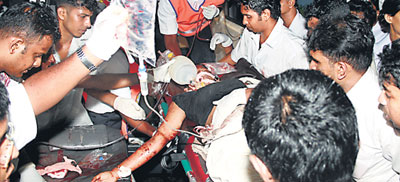 A victim of the Piliyandala bomb blast being rushed to hospital.
But so much more is left undone in such situations.
Meanwhile, ghoulish vultures arrive to prey on the victims. The Sunday Times gave the shocking story of Priyani, who died in the Dehiwela train station bomb blast.
Her husband went to the hospital morgue in the hope of identifying her by her wedding ring. However, her ring, earrings and necklace were missing.
All that the police had to hand over were her umbrella, handbag and sandals. Even her ID Card was missing. Again, due to an official delay, the body was released two days later. This is not the only case of this kind.
It is time the administration rethinks its emergency plans in handling such situations. The police should be empowered to collect the ID cards of all such victims and retain them in police custody until an authorised person collects these cards.
One way of informing close relatives is for the police to give the ID card numbers to the media, TV and radio, to be announced immediately. When it comes to a large number of victims requiring medical attention, private nursing homes should offer assistance to victims with minor injuries. This would greatly reduce the pressure and congestion in the hospitals.
The police chief should nominate a senior police officer at DIG level to rush to the scene and direct operations.