Koluu… chef, restaurateur and actor. And this time around he will wear another hat as the host of a TV show. The first programme of 'The Inner Circle with Koluu,' as the new TV show, produced by Amazing Events Pvt Ltd. is called will be aired tomorrow, June 30 at 8 p.m. and will be repeated on July 3 at 10 p.m. on ETV. The episode will be half an hour and will air once a month.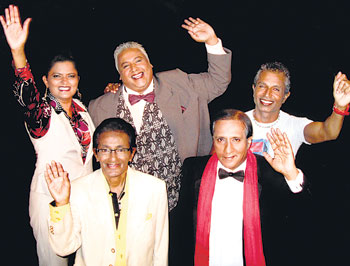 The team bhind The Inner Circle with Koluu
Tomorrow's show will revolve around the Nuwara Eliya season touching on the Governor's Cup, the fashion there as well as some humorous skits and will also cover current events as well as fashion, theatre, cookery etc.
'The Inner Circle with Koluu,' apart from the man himself, will feature Kirti Sri Karunaratne who will be the fashion guru while the script will be done by author Ashok Ferrey.
Reviews of Sri Lanka's English theatre will be done by well known theatre personality, Jith Peiris and the general events on the programme will be presented by Sonali Wijayaratna while the programme is directed by Sheahan Wijayaratna.
So after a hectic day at work at the start of the week you might just want to sit in front of your TV and enjoy some home-grown English entertainment by Koluu and his inner circle.