By Kumudini Hettiarachchi
Fifty years as a priest and it was a well-earned sabbatical. He had grand plans not for himself but to leave an ever-lasting something in memory of his mentor, Fr. Peter Pillai. He hoped to utilize his sabbatical on a journey across the world, tapping classmates from long ago, colleagues and friends whose paths he had crossed during his priestly ministry, to collect funding to set up an Institute of Technology in Sri Lanka.
But that was to be later. On that day, four years ago he was celebrating his jubilee mass with his family in Kerala. Soon after came the call from his Provincial back in Sri Lanka that the coastal areas including Galle and Matara had been hit by a tsunami.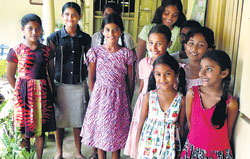 All smiles as 'Kuda Kusum' becomes a reality.
It was December 26, 2004 and Fr. Thomas Kuriacose did not need a second call. Plans for his foreign sojourn to collect funds to build the institute shelved, he packed up and came back to his adopted home.
The devastation he saw left him shattered. All energies were channelled to working with the affected men, women and children, mostly fishing families. "Something which kept catching my eye was the large number of traumatized children, idling and left to their own devices," says Fr. Kuriacose.
He felt an urgency to do something, for he himself had spent his childhood in the south -- Matara being his foster hometown, when "Daddy came to teach at St. Servatius College". Fr. Kuri, as this 88-year-old priest is fondly known by his flock, had gone to kindergarten in Matara, followed by schooling at St. Aloysius College, Galle and St. Joseph's College, Colombo.
"We had to do something for the children," he says and as he was turning different kinds of projects in his mind, the Superior of the Sisters of the Holy Angels in Tangalle offered part of the convent premises.
"It was an answer to a prayer," he smiles and with it the idea for 'Kuda Kusum' (Little Flower) bloomed – a place where tsunami-affected children can call "home".
The two most important conditions that had to be met were, of course, continuity and commitment. Both were assured when the Sisters of the Holy Angels extended a helping hand, says Fr. Kuri ever-grateful to the Superior.
"This is a home of hope for homeless children, where they will be fed, clothed and sheltered so that they can not only study but also develop any latent talents," explains Fr. Kuri. Once the decision had been made to set up the home, the arduous task of collecting funding fell upon Fr. Kuri and those who had supported the numerous projects he had undertaken earlier as a silent offering to God.
Although a group of Sri Lankan expatriates promised the total sum of Rs. 40 million needed for Kuda Kusum, only about Rs. 6 million was forthcoming. "Begging and borrowing" began even though by this time Fr. Kuri had lost part of his leg to diabetes.
Letters were written and contacts tapped and in some parts of the world Sri Lankan children saved up their pocket money and contributed a dollar a month towards this worthy cause. Already 20 children are at Kuda Kusum, with the full complement of 50 coming in after the formal opening in July. The three-storey building has been constructed by Building Design Partners under the skilled direction of architect Gemunu Perera.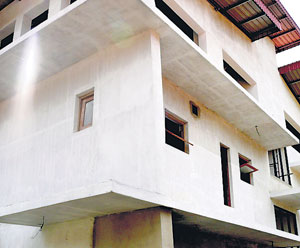 A place they can call home.
"There will be both boys and girls but the boys will be kept only until they are about 10, after which they will be moved to another home. We are hoping to provide all the children with an education up to tertiary level and if they enter university they will be given bursaries under the Fr. Peter Pillai scheme. We also hope to develop their talents in music and drama and may be even set up an oriental orchestra," he says.
Kuda Kusum will ensure that every child, whatever race, caste or creed, will grow to the fullness of stature intended for him or her by the gifts and talents endowed in them, adds Fr. Kuri.
Please help
Kuda Kusum will be opened by the Papal Nuncio on July 13. Run by a six-member Board of Trustees, Fr. Kuri's earnest plea is for support by generous donors. "People can sponsor the education and maintenance of a child by providing Rs. 4,000 a month," says Fr. Kuri.
Contributions may be sent to 'Kuda Kusum Trust', Account No. 01 1511270 01 at the Standard Chartered Bank (Swift Code: scbllklx). For more information contact 'Nirmala', 31, Clifford Place, Colombo 4, Sri Lanka. Phone: 4516802. E-mail: kerala@sltnet.lk