I have, literally, walked into a storybook. With its dark green roof and white walls, surrounded by sloping gardens and flowerbeds, the quaint farmhouse seems to have materialised right out of the pages of Anne of Green Gables. The apple-scented geranium that Anne nicknamed 'Bonny' is on the kitchen windowsill. Anne's room upstairs is sparse, yet pretty, and her treasured brown dress, with the puffed sleeves she craved, hangs in the closet. I almost expect her to come running in at any moment, with her red hair and sparkling green eyes.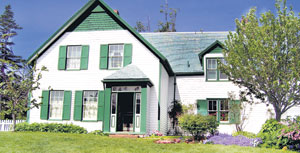 The Green Gables House
Who would not love Anne Shirley, the vivacious heroine of author Lucy Maud Montgomery's classic Anne of Green Gables? Described by Mark Twain as "the dearest and most lovable child in fiction since the immortal Alice," she has influenced the lives of young girls around the world, and brings thousands of visitors every year to this very spot in the village of Cavendish in Prince Edward Island, Canada, to see the house and the landscape that inspired the story of Anne. Today, as the Island celebrates a hundred years since the publication of Anne of Green Gables, much of its beautiful scenery – the emerald fields, ruby sandhills and sapphire seas – remains unchanged. And I, like many others, am here to realise a childhood dream, and discover for myself the delightful spots that L. M. Montgomery wove into her stories.
My 'Anne tour' begins at the Macneill farmhouse, or the original 'Green Gables' which belonged to Montgomery's relatives, David and Margaret Macneill, and which she visited frequently as a young girl. The interior of the house has been furnished as it would have looked were Anne and her guardians Matthew and Marilla Cuthbert actually living there. The furniture and décor belong to the late 1890's, and the finer details of Anne's life are visible everywhere. Marilla's sewing room is set up with an unfinished quilt by the loom. The infamous amethyst brooch lies on a black shawl on her bed. And in the kitchen is the wood box where Matthew often sat.
If the house is a replica of Montgomery's descriptions, the area surrounding it is even more so. I walk down the garden, through a little white gate, to enter the forest that she christened 'The Haunted Woods'. Strolling through the narrow paths that wind among slender spruce trees and shrubs, I think of Anne's terrifying walk through these very woods where she was haunted by the ghosts of her imagination. It's easy to see where such thoughts would come from – a sea breeze constantly blows through the woods, causing the trees to creak and sway, with an almost eerie sound. A startled rabbit hops across the path, and a chipmunk chuckles in the branches above.
Meandering through Balsam Hollow and Lovers' Lane, with flowers blooming at every turn and quaint wooden bridges that span the gurgling brooks, I follow the footsteps of Montgomery who often enjoyed an evening stroll here, and rendered this beauty into her books.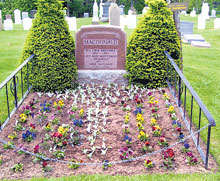 Montgomery's grave
Across the street from the Green Gables Farm is the site of her Cavendish Home, where she lived with her grandparents for many years, and where she actually wrote Anne of Green Gables. The house itself no longer exists, though the land is still owned by her descendants who operate a small bookstore there.
Continuing to retrace the life of L.M. Montgomery, we drive to New London to visit the little white house where her mother Clara Macneill died and from where her father, Hugh Montgomery, took her away in infancy, to live with her grandparents. The shrine in the house is the room where she was born, again furnished to look as it would be on that day in 1874. There is also a replica of her wedding dress and several photographs and scrapbooks belonging to her.
A few miles away from here is 'Silverbush', the lovely home which Montgomery once described as the "wonder castle of my childhood". Belonging to her uncle, John Campbell and his large family, it was here, among her cousins, that she experienced the love and joy that was denied to her in her grandparents' home. It was the setting for her book, 'Pat of Silver Bush', and it is where she got married to the Reverend Ewan MacDonald in 1911.
A feeling of warmth pervades the house which reflects decades of love and laughter. Mementos of her writings are everywhere. There is the enchanted bookcase in which she made a friend of her reflection, and called it 'Katie Maurice', – as Anne did. In the kitchen is the large blue chest which features in her book The Story Girl. Below the house shimmers the Lake of Shining Waters, as beautiful as one imagines it to be when reading Anne.
The lines between reality and fiction are blurred in this little island that has now become synonymous with Anne of Green Gables. Montgomery herself, when asked if Anne was a real person, always answered "no" with an odd reluctance – for did she not exist –somewhere? Were not the nuances of Montgomery's own character and life, the places where she had lived and loved, as much a part of the book as the products of her imagination?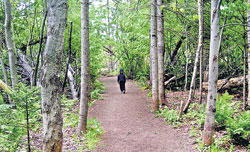 The eerie haunted woods
My pilgrimage ends at the small Cavendish cemetery, where many of the graves are over a century old. It is here, in the land that she loved, that she was brought home to rest, though she died in Toronto in 1942. A small fence encloses her grave, which is strewn with flowers. I place there a small bouquet of violets from Lovers' Lane, and say a silent thank you, as many others have before me – for touching our lives with a world of beauty that was so eloquently expressed in her writing.
The Montgomery story
When L.M. Montgomery first received a copy of her book Anne of Green Gables on June 20, 1908, she wrote in her journal: "There, in my hand, lay the material realisation of all the dreams and hopes and ambitions and struggles of my whole conscious existence - my first book. Not a great book, but mine, mine, mine." Little did she know, that the book would turn out to be one of the most popular classics of all time, being translated into over 33 languages, and carrying the name of Prince Edward Island to every corner of the world.
In addition to the Anne series, Montgomery also wrote the Emily of New Moon series and several other novels, of which her personal favourite was The Story Girl. Much of her writing is autobiographical, which is vouched for by her personal journals, which were published some time after her death.
Like her heroines Anne and Emily, she too grew up without her parents. When she was two, her mother died of tuberculosis. Her father, who was a merchant, remarried, and moved away. Montgomery was raised by her maternal grandparents in Cavendish. She had a rather difficult childhood in an atmosphere of strict discipline, but moments of reprieve came in the homes of those she loved, such as Green Gables and Silverbush.
| | |
| --- | --- |
| | |
| Anne's room with brown dress and all | The room in which the author was born |
In 1895 Montgomery qualified for a teacher's licence. In the years that followed she worked as a teacher, then as a proofreader and writer at a local newspaper. She never gave up her own dreams of being a famous writer, and would usually write for an hour at dawn everyday.
In 1898 she returned to Cavendish to take care of her grandmother. During this time she wrote the first book of the Anne series. The idea was based on a notebook entry from 1904: "Elderly couple apply to orphan asylum for a boy. By mistake a girl is sent them." The book was rejected several times before being accepted for publication.
In 1911 after her grandmother died, Montgomery married Reverend Ewan MacDonald, and moved with him to Ontario. Her three children were born there, and she continued to write, basing almost all her writing in PEI. She died in Toronto on April 24, 1942.
Prince Edward Island
Prince Edward Island is Canada's smallest and greenest province, lying on the East Coast of the country, on the Gulf of St. Lawrence. It was originally called Abegweit by the Native Americans who inhabited it, meaning, 'land cradled on the waves'. PEI is linked to the mainland of New Brunswick by the Confederation Bridge – an architectural marvel that spans 12.9 kilometres. The island is known for the vivid hues of its gently rolling landscape, especially the deep red colour of its soil, which is due to the high content of iron oxide in it.
The provincial capital of the island is Charlottetown, a quaint little seaside city that has a special historic significance for Canadians. It was here that the Charlottetown Conference to discuss Canadian Confederation took place in 1864, and so, it is considered to be the birthplace of Canada out of the colonies and territories of British North America.
Today, PEI is one of Canada's most popular tourist destinations, thanks to Anne of Green Gables. Apart from the Anne attractions, visitors also come to experience the pristine beaches, walking trails, golf courses, lobster dinners and historic monuments in the area.