By Smriti Daniel, Pix by Saman Kariyawasam
Nine-year-old Dilshan spends four afternoons a week attending special classes designed to help him get back on track with his education. The classes, organised by the National Workers' Congress (NWC), are meant for children from poor homes, or from no homes at all, who are in danger of missing out on an education because of their straitened circumstances. Many of these children have been either roaming the streets or working as child labourers. Most of them, for personal or family reasons dictated by their socio-economic background, have had little or no education or dropped out of school.
The classes are part of an educational initiative known as Darusetha (the word means "good works on behalf of children"). The programme aims to save children on the poverty line from child labour and lead them back to the classroom.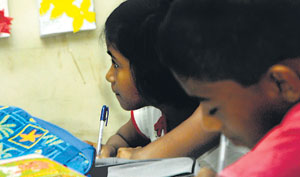 Darusetha: Offering marginalised children a chance to study.
"The National Workers' Congress is committed to preventing child labour – we see it a serious social responsibility," said NWC deputy secretary general Gerald A. G. Lodwick. "Child labour is a scourge, and if it is not stopped, it could have an adverse, long-term impact on society. Education is key to preventing child labour."
Darusetha operates out of nine centres islandwide, offering young, marginalised students a non-formal education. According to Mr. Lodwick, the aim of the project is to "encourage school-going children to continue with their formal education and to provide an education bridge for school drop-outs". He stressed that the Darusetha programme, which includes classes in drama, art therapy, debating and other extracurricular activities, were a stop-gap measure and not to be considered a substitute for formal schooling.
Classes are held five days a week. The teacher who oversees each centre works around a schedule, bringing children together according to their specific needs, explained Darusetha co-ordinator Amali Kalupahana. "Darusetha takes a holistic, whole-education approach – both in and outside the classroom," she said.
The Darusetha teachers also double as counsellors, said Mr. Lodwick. In addition to their classroom duties, they conduct regular home visits. The purpose of the visits is to ensure the children are being brought up in a safe and nurturing environment. The Darusetha staff will act if they feel intervention is necessary because a child's caretaker is deemed unsuitable as a parent or guardian. Because intervention can be sensitive, complex and potentially risky, the NWC works with other organisations in cases requiring such action. For example, the NWC works closely with the Alcohol and Drug Information Centre (ADIC) in cases where children are enduring domestic hardship because of parents who are either alcoholics or drug addicts.
Several thousand needy children have benefited over the past 12 years from Darusetha's good works. At present, Darusetha oversees around 350 children, between five and 15 years. Because the majority of them come from families on the poverty line, the first and biggest challenge are the parents themselves. The organisation has to impress on the parents the importance of educating their children, and the fact that children have an inalienable right to an education.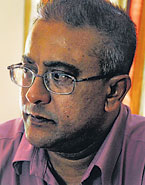 NWC's Gerald Lodwick
At the same time, the Darusetha team is aware of the realities of their task: it is one thing to pull a child out of exploitative, illegal employment, and another to keep that child on the right track. One of the best ways to accomplish this is to provide the family with an alternative source of income generation, and to give the older, unemployed family members some form of vocational training.
Mr. Lodwick recalls how, just a few years ago, almost 80 percent of the children enrolled at Darusetha's Dehiwala centre were beggars, living with their families in absolute poverty on the banks of the Dehiwela canal. However, relocation and income generating opportunities have made a world of difference for these families. Some of the mothers were given money loans so they could sell sweep tickets for a living. These mothers have repaid these loans, and are making sure their children stay off the streets.
Apart from Darusetha, the National Workers' Congress has implemented a number of action programmes in collaboration with international organisations such as UNICEF and the ILO. The focus is on grassroots initiatives designed to change perceptions about child labour. Children over 14 years are given career guidance and a vocational training. These programmes are tailored to the needs of the local community. In Beruwela, for instance, young adults may be taught navigation or net mending, two skills that are in high demand in a fishing community.
As the National Workers' Congress enters its 50th year, the organisation has much to be proud of. Child labour figures have fallen significantly in recent years and, thanks to NWC efforts, both the government and a large segment of the private sector are united in their determination to abolish child labour altogether. But the challenge will always be present, Mr. Lodwick warned. In a country experiencing serious economic problems, child labour is a constant threat. Children of families living on estates and in border villages are especially vulnerable.
Meanwhile, the children themselves are endorsing the Darusetha programme and its impact on their lives. Twelve-year-old Saji says she is now better able to handle her school work, while Dilan, 10, has on his desk a painstakingly handwritten sign (in his own hand) that quotes the ILO Convention 182, which says in no uncertain terms that the law of the land protects him from ever becoming a child labourer again.