You might think that clean drinking water is a given for every citizen in a country blessed with an abundance of natural resources.
Unfortunately, that has not been the case for every Sri Lankan. For many years, in some cases for almost half a century, people living along sections of the country's southern coastal belt have suffered from a lack of a decent supply of fresh water.
In Hambantota and Tangalle, for example, many residents continue to go out in search of drinking water, while others resort to drinking unsterilised water from roadside taps or streams, water that could easily be contaminated with cholera or hepatitis germs.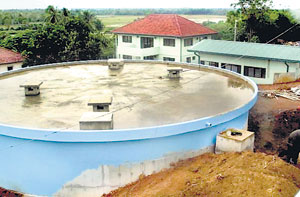 The new treatment plant
Tsunami-hit Tangalle, for instance, has a limited number of sources for safe drinking water.
For more than half a century, the majority of residents in the area have had to be satisfied with a water supply source (one that became operative in 1953) that was intermittent at best. A 24-hour supply was not guaranteed.
"I have lived here for the past nine years and know full well the hardships of the people because of a lack of decent drinking water," said R. K. L. D. Soysa, Hambantota regional manager, National Water Supply and Drainage Board. "The hardships the residents undergo are unbelievable. The women sometimes have to walk a whole kilometre in search of water."
UNICEF, the United Nations organisation that works in more than 150 countries in the areas of water supply, sanitation, health care, education and nutrition, among others, is collaborating with the National Water Supply and Drainage Board to provide a sustainable supply of safe drinking water to families in the tsunami-hit areas of Hambantota, Ampara and Tangalle.
One positive outcome of the December 26, 2005, tsunami catastrophe, which claimed thousands of lives and caused widespread destruction, is that residents of southern districts will be getting a steady and accessible source of clean water for the first time in close to 54 years.
Areas that will benefit from the fresh-water supply scheme are the AGA divisions of Seenimodera, Kadurupokuna, Hunapuruwa, Unakuruwa, Polommaruwa, Palapotha , Pallikodawa, Sitinamaluwa, Kambussawela, Tangalle and Beliatta.
Construction work on the Tangalle Water Supply Scheme was recently completed, and tests have proved the scheme to be a success; meanwhile, working is progressing steadily at the Tirukkovil Water Supply Scheme.
The Tangalle project, which took 18 months to complete and has cost US$10 million, is due to be commissioned shortly.
Under the project, the present water capacity of 2,500 cubic metres will be increased to 6,500 cubic metres, ensuring a total output of 9,300 cubic metres a day. Some 52,000 residents in the area will soon have access to safe drinking water.
(Courtesy Ground View May/June 2008, published by the Consortium of Humanitarian Agencies)