Some people call it destiny, others call it fate, but I think of it as the orbit of life. Each person's life has its own orbit that takes you along its own unique path during your lifetime. It comes into contact with other orbits, sometimes just a brief glance and sometimes for years, before veering away along its own path; and sometimes forever.
The orbit of our lives, Sriyani's and mine, brought us together in the autumn term of 1956 at Queen's College in London. We were in our teens, both "new girls" in the A-level class. For a day or two we were feeling a bit overwhelmed, "out of place", with everyone else obviously knowing everyone. On about the third day we found ourselves sitting next to each other in the Common Room during a break in our subjects. We were both dressed in a similar way…dark woollen skirts, light coloured blouses, socks and low heeled shoes – both feeling a bit self-conscious among the others who seemed to us, very fashionable – in their high heels and nylon stockings! She smiled and started the conversation, which I remember word for word. That was the start of a friendship that would last for 49 years.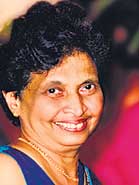 A few months later, my parents and I arrived in Colombo. A couple of days later there was a telephone call for me, and, greatly excited, I said to my parents, "That must be Sriyani"… Indeed it was. Our orbits had brought us together again. Sriyani came to my place the next day, and we, thereafter, continued meeting in each other's houses and our parents got to know each other well.
Over the years, starting from our days in England, Sriyani and I shared an identical sense of humour. Sriyani had the most irresistible chuckle which she perfected over the years, that never failed to bring out in me an uncontrollable desire to laugh out loud. She would gracefully cover part of her face and let her eyes do the laughing. We both agreed later in life that one could get through any difficult situation, by looking for a funny side to it. Our motto – if we had one – would have been "all goes if humour goes" which is a slight variation on what James Michener said in his book "The Drifters" -"Courage is the thing. All goes if courage goes".
After we both finally settled down in Colombo, we continued meeting and shared similar interests as we had always done before. Our last time together, was to a concert at the Lionel Wendt theatre and afterwards dinner, relaxing and enjoying each other's company. It was midnight when we said our good-byes, looking forward to our next meeting.
Three years ago, Sriyani's orbit of life veered away on its predestined path to a place where there is eternal peace, rest and well-being; and where there is everything that is good and beautiful.Sriyani, throughout her life, had unbounded energy and enthusiasm for everything in her life. We all know how great was her dedication to her family, her work, her charity and her faith. She went through life with grace and dignity, in a quiet and unassuming manner. Sriyani's character, her personality and her life can be described by a single word: courageous. "True courage is to do without witnesses everything that you are capable of doing before all the world", as James Michener wrote. This was the Sriyani that I knew and whom I will always remember.