The future inspires him, he says. In an era in which most everything is concrete and glass, bringing the basics that our ancestors began with, into the present day, makes a refreshing change. Following the age-old tradition of building among rocks, the Boulder Garden resort at Kalawana, as its name suggests, is sheltered by overhanging boulders, which form the entrance into the 15-acre complex.
The resort includes 10 guest rooms, a reception, and main restaurant located in an open cave. Lush foliage, reflecting pools, open terraces, and verandas sheltered by cinnamon sticks, surround the structure. Rubble walls with inner cement bondage comprise the skeleton of the buildings, while timber logs carry the weight of the roof.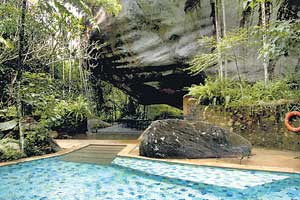 The Boulder Garden lies at the foot of a hill overlooking an abandoned tea estate, and the area is riddled with caves that add to the mysterious atmosphere of the place. In fact, of the 10 double or twin suites, two are quite literally, caves. Full occupancy means about 35 guests. Rocks intrude into some of the bathrooms. The spacious bedrooms are finished with titanium or flagstone floors It could actually be seen as the gateway to one of the World Heritage Sites- the Sinharaja Forest.
The architect of this creation, Lalyn Collure grew up in Colombo and was educated at Royal College before being selected to study architecture in 1992 at the University of Moratuwa.
He ventured into to architecture, not through any specific form of inspiration; "I must say that I didn't get selected to any other field of university study that was in demand, at that time," he says in an email interview. In 1999, he qualified to work on his own, and became a member of The Institute of Architects in Sri Lanka.
Currently living in Toronto, Canada, Lalyn has had roughly ten years experience as an architect, five of which have been focussed on Planning and Urban Design, outside Sri Lanka. The Boulder Garden Resort, for which Lalyn has been nominated for the Geoffrey Bawa Trust Award For Excellence in Architecture was a four-year work in progress and is, in its creator's words " one of (his) most rewarding projects." Old as its concept may be, the resort comes complete with all modern amenities, which include a swimming pool, telephones, air conditioning, minibars and Jacuzzis in the deluxe rooms.
For Lalyn, each project is unique and challenging no matter what scale it is. "I am honoured that the Boulder Garden was shortlisted for the award; it's all about enjoying what you do, and I definitely do that."