In January 1879, Ceylon was visited during a round the world trip by Andrew Carnegie (1835-1919), the Scottish-American steel billionaire and philanthropist. His stay amounted to only 10 days, but he managed to visit Galle, Colombo and Kandy, and, in his first attempt as an author, recorded his shrewd observations and engaging descriptions in Round the World (1884).
Carnegie had few social advantages but plenty of ambition. He was not afraid of hard work and was devoted to self improvement. By the 1860s he had made many shrewd investments and built a fortune as a bond salesman raising money in Europe for American enterprises. In the 1870s he founded the Carnegie Steel Company: by the 1890s it was the largest and most profitable industrial enterprise in the world. He sold it to U.S. Steel in 1901 and devoted the rest of his life to extensive philanthropy, with special emphasis on libraries, world peace, and scientific research.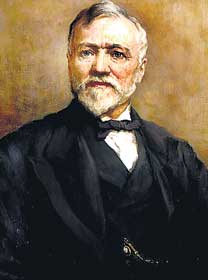 Andrew Carnegie Image courtesy nationalgalleries.org
Accompanied by a friend, John Vandervorst, Carnegie set out westward from New York on October 12, 1878, and returned after 256 days on June 24, 1879. When the pair reached Singapore, Galle became their next port of call. They weren't alone on the passage to Ceylon, for as is revealed in William T. Hornaday's The Minds and Manners of Wild Animals: A Book of Personal Observations (1922; paperback 2007) they "convoyed my Old Man and another small orang from Singapore to Colombo, Ceylon, whence they were shipped on to Madras, received there by my old friend A.G.R. Theobald, - and presented at the court of the Duke of Buckingham."
Carnegie doesn't refer to these unfortunate orang (presumably utan) fellow-travellers in his book, preferring instead to evoke that well-known hymn with its oft-quoted reference to the island. "It was smooth and quiet steaming all the way to Ceylon," Carnegie begins. "I had been humming Greenland's Icy Mountains for several days previously, about all that I knew of Ceylon's isle being contained in one of the verses of that hymn, which I used to sing at missionary meetings.
"And indeed the 'spicy breezes blew soft o'er Ceylon's isle' as we approached it in the moonlight. We found Galle quite a pretty, quaint little port, and remained there one night, taking the coach next morning for Colombo, the capital. The drive of 60 miles to the railway which extends to Colombo, 17 miles beyond, is one of the best treats we have yet had. The road is equal to one of our best park avenues, as indeed are all the roads we saw in Ceylon; from end to end it skirts the rocky shores, passing through groves of cocoa and betel-nut trees, and dotted on each side by the huts of natives at work at some branch of the coconut business."
The remark about the state of Galle Road in particular, and the island's roads in general, is certainly something to take note of. But then this was January, during the dry season. As Galle Road wends its way down the west coast, it's not surprising that Carnegie's attention was caught by the fishermen drawing in their nets, an activity that hasn't changed in the century and a half since the following passage was written:
"The natives have been attracted to this main road, and from Galle to Colombo it is almost one continuous village; there is no prettier sea-shore in the world, nor a more beautiful surf. Every few miles we come upon large numbers of fishermen drawing in their nets, which are excessively long and take in several acres of sea in their sweep. An artist who would come to Ceylon and devote himself to depicting 'the fishers of Ceylon's isle' would make a reputation and a fortune. I am quite sure there is no more picturesque sight than the drawing of their nets, several hundred men being engaged in the labor, while the beach is alive with women and children in bright colours anxiously watching the result."
Captains of industry are not generally known for an ability to take note of or describe the minutiae of social customs , especially female appearance, but Carnegie was a sensitive man and made the best of the exotic opportunity presented to him: "The dress of the Ceylonese women is really pretty: a skirt closely fitting the figure, and a tight jacket over the shoulders - all of fine, pure white cotton cloth or muslin and quite plain, with neither frill, tuck, flounce, nor anything of the kind. Necklaces and ear-rings are worn, but I am glad to say the nose in Ceylon seems to be preserved from the indignity of rings. The men's dress is rather scanty, their weakness being a large tortoiseshell comb, which every one wears; it reaches from ear to ear, and the hair is combed straight back and confined by it. Women are denied this crowning ornament, and must content themselves with a pin in the hair, the head of which, however, is highly ornamented. The Buddhist monks form a strange contrast in their dress, which consists of a yellow plaid, generally of silk, wrapped around the body and over the shoulders."
One day, with proselytizing zeal, Carnegie quoted the relevant verse from Greenland's Icy Mountains to his Ceylonese guide:
What though the spicy breezes
Blow soft o'er Ceylon's isle,
Though every prospect pleases,
And only man is vile!
In vain with lavish kindness,
The gifts of God are strewn;
The heathen, in his blindness,
Bows down to wood and stone.
"'What do you think of that description?' I asked. He said he thought 'the writer was a fool', and asked if any one in my country believed that there was a man, woman, or child in Ceylon who did not know better than to bow down to any power but God. 'Yes,' I said, 'I once believed it myself, and millions believe it to-day, and good boys and girls with us save their pennies to send missionaries to tell these heathen who worship idols how very wrong and foolish it is to do so, and how very angry the true God is to have anything worshipped but himself.' He said ours must be a very curious country, and he should like to visit it and see such queer people. I gave him my address and promised, if he would come to see me, to take him to a great missionary meeting where he would see the best and most religious people, all greatly concerned about the idolators of Ceylon."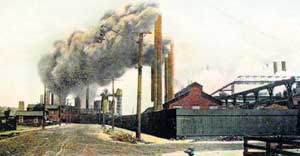 Carnegie Steel Works. Image courtesy spdconline.org
While in Colombo, Carnegie witnessed the construction of the new port, which would soon eclipse Galle as the point of entry to the country. However, he makes the point that the tourist would lose much by not experiencing Galle and the subsequent coach journey to the capital. "We saw the new breakwater which government is constructing here at great expense. When finished it is proposed that the Indian steamers shall call here instead of at Galle, the harbour of which is dangerous. This may be a decided improvement upon the whole, but the tourist who does not see pretty Galle and enjoy the long day's drive through the island to Colombo will miss much."
His time in Ceylon nearly exhausted he made the journey to Galle from Colombo. "During our trip down yesterday I counted within forty miles eleven schools filled with young Cingalese. We were equally delighted to see numerous medical dispensaries, where the afflicted natives can obtain advice and medicine free of charge. On several huts we saw large placards denoting the presence of contagious disease within. It is a great work that is going forward here under English rule. By such means England proves her ability to govern, and best confirms her sway against domestic revolt or foreign intrigues."
Well, Carnegie was of British descent . . .
Text from Project Gutenberg, the first producer of free electronic books (ebooks): http://onlinebooks.library.upenn.edu/webbin/gutbook/lookup?num=6411