A little over fifty years ago, my grandmother was diagnosed with a cataract in one of her eyes. For her this was a catastrophe. She was an avid reader of fiction, the newspapers, religious books, and a daily of the small print of her Bible. An industrious needlewoman, she would cut and sew her own garments, darn anything from a trouser to a stocking and in her leisure hours she would knit and crochet. She was in robust health, and lived a very active life. From being involved in many social activities and societies that cared for the poor and ailing, she also played Mahjong and Bridge regularly as she was no longer running her own house since my grandfather's death.
Impending loss of eyesight was something she could not envisage, for that was what having a cataract meant to the average person.
A family conference was held, her two sons and two daughters were summoned and a decision made. Although I do not know this first hand, I am almost sure the eldest uncle who had a healthy dislike for all medical intervention by anyone professing to be a doctor, would have strongly opposed it. However, my Grandmother was not one to be easily discouraged. She was a strong woman, both physically and mentally and although she would take the advice of her eldest son on most matters, when she felt she had to do something, she just went ahead and did it. His deep love for her could not prevail against that. Finally after much discussion, it was agreed that she would undergo the operation, which at the time was unknown territory, fraught with the imminent danger of going blind. A successful operation meant thick lenses with limited peripheral vision.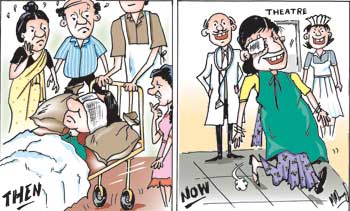 Many arrangements had to be made for this major event. My mother who lived outstation had to make arrangements to spend a week in Colombo to nurse her. A room was booked at a private nursing home and an adequate supply of clothes for her hospital stay had to be collected. Finally her suitcase packed, she checked into her room the day before the operation. The Doctor's instructions to us were many. After the operation, her head was to be kept perfectly still for 3 days (I think). No coughing, no sneezing. She could be fed liquids but she was not to strain herself in any way whatsoever. A lot of pre-op procedures took place as she was to go under a general anaesthetic. The anaesthetist checked her out with the necessary tests and she was ready for the next day.
The next morning, her children, her sons and daughters-in-law, and I, her eldest grand-daughter, arrived early at the nursing home. The operation was scheduled early in the morning and we were anxious to see her before she went into the theatre. Soon, gowned and capped, she kissed us all and waved goodbye as she was wheeled in. The tension outside the theatre was palpable while the actual nail biting was left to me.
Finally it was over, and she was wheeled out still unconscious with a big bandage over her eye that went all the way around her head. She was gently carried on to the bed. No pillow, but two sandbags were placed on either side of her head to keep her head perfectly still. We were warned once more, that whatever happened, she was not to move her head in any direction for 3 days.
She came out of the anaesthetic shortly and we were allowed to wet her lips and later she had sips of liquid. She was already on a drip. She seemed to be fine and drifted in and out of sleep. A few hours later she began to complain of nausea. The Doctor ordered some medication and asked us to see that she did not strain to retch or vomit.
Now the real drama started. Her stomach began to bloat and fill with liquid. The Doctor believed the pyloric valve leading from the stomach to the intestine had gone into spasm, due probably to shock, resulting in the stomach not emptying. Hence, the bloating. By now, she had actually started to vomit. No sand bags could keep her head still. In spite of a nasal tube being inserted to drain the stomach contents, the vomiting continued.
It was a desperate situation, the eye surgeon had given up hope of saving the eye, while we were now worried about saving her life. The next two days were a nightmare for all of us who kept a 24 hour watch over her. Finally the nausea settled and her kidneys and bowels took over their normal duties, but the eye bandage was still on.
It was time now for the bandage to come off. No one dared to think of the outcome. When the Doctor announced that the operation was successful and she could actually see with that eye, our relief knew no bounds. We could hardly believe it.
I have no doubt that her deep faith and the many prayers she would have said had been answered.
The Doctor himself said there must have been some Divine intervention. He told us that as he was about to perform the normal procedure, using stitches to close up the cut, something made him change his mind and he opted for another procedure using a "bridge" if I remember right. He had absolutely no doubt that the stitches would have burst with all the strain of vomiting, and she would have lost her eye.
My grandmother finally left the hospital with a number of restrictions about not bending, looking up or down, reaching up, or making any jerky movements or wetting the eye. The other "don'ts" I hardly remember, but they were many.
Finally, with a pair of extremely thick lenses my grandmother was back to her reading, crocheting and knitting. I am sure she thanked God every day of her remaining life for her second gift of sight.
***************
50 years later having been diagnosed with cataracts in both eyes, I present myself at the Hospital at 6.30 a.m. About 15 other patients join me. We are in our normal clothes. Leaving our shoes outside we go into a second room. A nurse comes around and administers a drop into the eye to be operated. Within half an hour my pupil is dilated and my vision is blurred. I keep anxiety at bay by mindlessly reading the posters to see how the drops are taking effect.
Soon a buzz goes around. The Eye Surgeon has arrived. Our names are called and we go into an ante-room, change out of our clothes, and wear the sterile cap and gown provided by the hospital. Looking quite ridiculous we sit outside the theatre. My name is called. I walk into a freezing theatre and climb on to the operating table. Lying flat on my back, staring up at the huge, dazzlingly bright, theatre lights I await the Doctor with more than a small measure of apprehension. The cold is unbearable and my teeth start chattering. The lady anaesthetist holds my hand comfortingly and orders some blankets to be brought. I have a couple of layers over me, but the chattering does not stop. Now it is probably fear.
Finally I hear the Doctor's soft voice calling out my name. So comforting to be a name and not a number.
Of course my first and only question is "Will it hurt Doctor?" He reassures me "No. You will only feel pressure. Keep your eyes open and look at the light."
Easier said than done I thought. By now my head and face are covered with sterile cloths. A continuous stream of liquid is being poured into my eye. I squeeze my anaesthetist's hand harder than ever, fearing the worst sort of pain imaginable. I can see the flood of light, I can even see the scalpel (or so I think). Now I feel the pressure, but no pain. The Doctor soon tells me he is inserting the lens. I have opted to go for the multi focal lens which will give me near normal vision.
In about 15 minutes it is over. I get down unaided off the table and walk back to the changing room and change into street clothes. I am back home by 8.30 a.m. with just a gauze flap over my eye and drops to be instilled regularly throughout the day until he sees me in the evening and removes the gauze.
That evening, the gauze comes off and I can read the tiniest print or gaze into the distance and actually identify the birds. The intensity of colour is unimaginable. I imagine I am now seeing with the eyes of a little child. Colours as they should be, not faded by aging eyes.
I go home with no restrictions. I have only to continue using the drops for a month. I can look up, or down, watch TV, read, or even drive if I want to. My only restriction, bathing my head or washing my hair until the Doctor clears me.
Two weeks later I follow, the same procedure for my other eye. I say a final goodbye to my regularly misplaced glasses which I have thankfully donated. I can hardly get used to the fact that I am free, of glasses and can actually SEE once more without them.
With continued and humble thanks to God, my wonderful Doctor and medical science, my vision is now back to what it was when I was a teenager. I can read the tiniest print and even thread a needle.
This second gift of sight is to me priceless.