Turning from the mad rush of High Level Road into the fuel station very close to the Nawinna junction, motorists, be they bus, lorry, car or trishaw drivers and motorcyclists, are all smiles. They do not frown, shout or toot the horns as most Sri Lankan drivers are wont to do, after manoeuvring through the frenetic traffic that plies along this bustling thoroughfare.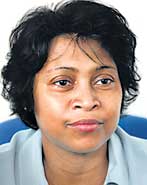 Director Kumudini Dalpatadu
A closer look reveals the secret of this newly-opened shed. Standing by some of the petrol and diesel pumps are smartly-clad diminutive figures in their blue caps and uniforms who greet the motorists with a "Good morning, Sir" or "Good morning Madam".
Believed to be the first fuel-pumping station with women working alongside men, Petrogas Pvt. Limited, Nawinna, is an equal-opportunity employer. Not only does it employ five women among its 20 employees, its Board of Directors is also balanced with two women and two men.
Opening as a fuel-pumping station only at the end of March, the Directors in the advertisements placed in newspapers had urged both women and men to apply. That's how they chose the five women now working with 15 men.
"The girls are from the outstations, places like Kurunegala, Matale and Kataragama," says Director Kumuduni Dalpatadu who along with her husband, Palitha and another couple, Lanka Prasad and Renuka runs Petrogas Pvt. Limited.
Petrogas which until this year had been a Shell auto and domestic gas station for 10 years had been compelled to put up shutters as auto gas did not catch on as expected. Still one counter of the spacious fuel station sells domestic gas cylinders.
| | |
| --- | --- |
| | |
| Asha from Kataragama: A yearning for the job brought her here. | Swarna:Takes turns at pumping diesel or counting notes with her male colleagues |
Switching in January to a different sales tack, pump construction work took three months after which during the two-week test period, the 20 employees were trained to handle and pump fuel by an expert. "This is a newly-recruited staff and we didn't poach any from other stations," says Mrs. Dalpatadu.
The pump attendants handle two diesel dual machines, two petrol 90 dual machines, one petrol 95 dual machine and one petrol machine allocated solely for trishaws, as it takes longer to service them.
Explaining that not only do they treat both men and women equally, Mrs. Dalpatadu says that they look after their employees well.
"Lodging is provided free of charge to the girls in an upstair rented out by the management while the boys use the lodgings available on the top storey of the pumping station, once again without a charge. All three meals are provided free of charge and the girls dropped at their lodgings by the Directors or sent by trishaw when their shift finishes at 7 p.m," she says, adding that the girls don't do night shift.
All employees can take their off-days when they wish, as the management has not specified these days, so that they can attend to any work or get together and go shopping, she says. "There is camaraderie among the group. In fact, the boys look out and look after the girls."
As we step out of the fuel station's glass office the relationship among the employees is evident. Two of the girls have "collected" their off-days and gone back to their villages.
There is banter but also efficient service at the pumping machines. Swarna Jayalath, 29, from Yapahuwa, Kurunegala is at one of the diesel pumping machines along with a male colleagues. They take turns at pumping diesel or nimbly counting the numerous notes handed to them by the conductors of the big buses which come for diesel.
Hithuna me job eka karala balanna, says Swarna, explaining that she felt like trying out this job. Before this she had worked in a garment factory. The daughter of farmers, she says this job is easier and better. Re weda ne, she smiles adding that there is no night work.
Indrani Ratnayake, 23, who is awaiting those who wish to buy gas cylinders, is of the view that the customers are good. Hondai is also her verdict when questioned about the job. She too is the daughter of a farming family from Badulla and supplements the family income with part of her monthly wage which is about Rs. 17,000.
Eighteen-year-old W.A. Asha Nilakshi from Kataragama, who felt a yearning for the job (aasa hithuna) when she saw the advertisement, says there is job satisfaction. "People know we don't cheat," she says simply.
Yes, they are dedicated, hardworking and honest and put heart and soul into their work. They are polite and provide a service with a smile, says Director Dalpatadu. "Why should we divide jobs into those that men can do and others that women can do……both groups are equal."
"Thank-yous" and "you are welcome" murmured gently by these women pump attendants after attending to their tasks as soon and as efficiently as possible, keep the vehicles streaming into the Nawinna fuel station. In this case, it is not that females are deadlier than the males but gentler and as efficient as the males.