Spreading over an area of about 200 acres, the rocky terrain of Thanthirimale has a scenic beauty that captivates all who come upon it. Located in the midst of thick jungle, just 41 km from Anuradhapura, on its north west lies the famous Wilpattu park.
Yet, it is because of its historic and religious significance that thousands of devout pilgrims journey here every Poson Poya. There is a reference in the Mahawansa to Thanthrimale in the story of the Bo sapling that was brought to Lanka by Theri Sangamiththa, during the reign of King Devanampiyatissa in Anuradhapura.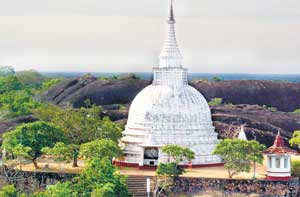 Thanthrimale chaitya
The King who accepted the relic at a place called Dambakiolapatuna, on his way back to Anuradhapura had spent the night on the rocks of Thanthrimale with the visitors. The place was then known as Bamunugama and was in charge of a Brahmin named Thivakka. He was also associated in the planting ceremony of the Sri Maha Bodhi in Mahamewuana Uyana in Anuradhapura. As a token of appreciation a shoot of the Bo sapling was also given to the Brahmin to be planted in his village Thivakka Bamunugama and can still be seen today.
Thanthrimale is also archaeologically significant because of its Samadhi pilima and the Sleeping Buddha hewn out of rock. There are four more incomplete statues, for which archaeologists have different interpretations. Some believe that a natural disaster may be the result for them being left incomplete.
There is a Pothgula (library) also erected in rock and rock huts which are believed to have been the meditation rooms of Bhikkhus of the time.
For the pilgrim there is much to see at Thanthirimale – ruins and lots of Buddha statues, sellipi inscriptions and also a dagoba in ruins, all sadly vandalized by treasure hunters. The water courses around the area are replete with lotus flowers adding to the pastoral beauty of the landscape.
The drawings on the walls of huts in Thanthrimale indicate the lives of those who lived centuries ago.
Thanthrimale was a forgotten region not long ago. It was the late Ven. Kudakongaskada Wimalagnana Thera who pioneered the restoration of this historic place and renewed development of the region.
Threats from LTTE cadres were repelled with the help of the Army and the current Viharadhipathi, Ven. Thanthrimale Chandraratana Thera has worked tirelessly to make the place what it is today.
Today Thanthrimale has become a place of pilgrimage that every Buddhist yearns to visit at least once in his/her lifetime.
Aloka Pooja 2008

Wijeya Newspapers Ltd, will for the fifth consecutive year support
the religious programmes being held at Thanthirimale on Poson Poya.
The programme is as follows:
June 18- Poson Poya
6 a.m Observance of Atasil and Buddha Vandanava
8 a.m. Sermon
9 a.m. Religious discussion
10.30 a.m. Buddha Pooja
1 p.m. Religious discussion at Thapovanaya
6 p.m. Observance of Pansil and a short sermon by the
Chief Incumbent Ven. Thantirimale
Chandraratana Thera
6.45 p.m. Inauguration of Aloka Pooja by the Chairman WNL
followed by his speech
7 p.m. Presentation of uniforms and gifts to teachers of the Daham Pasala
8 p.m. Bakthi Gee Contest
June 19
6.45 p.m. Inauguration of Aloka Pooja by Director /Editor
Lankadeepa, Siri Ranasinghe, followed by the distribution of uniform and other material to children of the Daham Pasala