NEWS
Damage-control after disaster
President tells ministers, officials to visit funeral houses and the injured; full state assistance for final rites of Muhamalai heroes
STF moves into Tiger territory
The Special Task Force (STF) on Thursday regained areas in the Ampara district, bringing them under government control for the first time in 20 years.
Germany puts pressure on Lanka, aid frozen
FRANKFURT- Germany has officially frozen any new aid for projects in Sri Lanka in a bid to put pressure on the government and the LTTE to get back to peace talks.
PLUS
From DUNG to THIS
It is perhaps coincidental that Elephant, Ecology and Economy all begin with the same letter. However, someone has linked the dots and found a connection!
Lanka's first silver rupee
After almost 15 years in the vaults of the Central Bank, surviving a bomb blast in 1996, the first and probably last Silver Rupee from Sri Lanka, issued after....
Father as mother
A recent study on the crisis facing Sri Lankan families when a mother works abroad confirms many past findings but there is a new, important one ....
Dengue: The blame game goes on
Have a chat with anyone today. They will either know of someone who has been in hospital with dengue or themselves been a victim of this disease.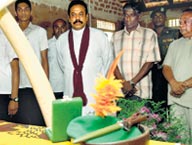 President Mahinda Rajapksa yesterday paid his last respects at the residences of two soliders who died in the Muhamalai attack. Picture shows the President paying his respects to soldier H. M. Nandasiri at his Galgamuwa residence. With the President is North Western Province Chief Minister S. B. Navinna. Pic by Suadth Silva
FINANCIAL TIMES
Tea Board CEO sent 'home'
H.D. Hemaratne, Director-General of the Sri Lanka Tea Board, was sent on compulsory leave last week by its chairman H.A.C. Abeywardene in a move that shocked the...
PBJ - judge, jury & executioner?
A sub-committee of COPE (Committee on Public Enterprises) last week, summoned officials from institutions involved in the sale of Sri Lanka Insurance Corporation (SLIC) for clarification...
Harry to retain Apollo name?
India's Apollo Hospitals Chairman, Dr. Prathap Reddy is due in Sri Lanka this month for talks with business tycoon Harry Jayawardena...
SPORTS
The domino winds
Unheralded Sri Lanka turned the ICC Champions Trophy on its head as the defending champions West Indies suffered a humiliating blow to lose by nine wickets...
Maharoof over the moon
Farveez Maharoof, the wrecker of the ambitious West Indies cricket team, expressed an over-the-moon feeling but also paid tribute to his team-mates for...
And now we meet the 'big guns'
Irrespective of what transpired yesterday, now both Sri Lanka and the West Indies team managements must be at the drawing boards once again to work out how they would steer through the rest of the tournament which is also a very fine precursor to the World Cup in the West Indies early next year.