STF moves into Tiger territory
The Special Task Force (STF) on Thursday regained areas in the Ampara district, bringing them under government control for the first time in 20 years.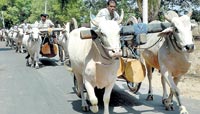 Some of the bullock carts along with the timber logs seized by the STF recently.
The offensive was launched in the Kanjikudichchi Aru area, a former stronghold of the LTTE from where many of the operations in the Eastern Province were organized by the LTTE.
Many of the massacres reportedly organized by the LTTE were also carried out from this base.
In a three-pronged attack carried out from Pottuvil, Pannaloya and Moneragala, STF personnel advanced into LTTE-controlled areas.
The Air Force backed the operation by launching air strikes.
The fresh attacks came as the STF in a separate operation on Thursday in the Karandaoya area, off Pottuvil, arrested three people involved in a timber racket.
The suspects were arrested and handed over to the Lahugala Wildlife Office for further investigation. The three bullock carts along with implements were also seized. The arrested suspects will be produced before courts.
STF sources said that due to protests launched by some Muslims backed by the LTTE after the killing of 10 Muslim civilians, the STF was withdrawn from Pottuvil, but due to appeals by others the STF was redeployed in the area.
Meanwhile, in Mannar, the STF repulsed an attack by the LTTE on Thursday inflicting casualties on the Tigers.