Close to nature at the Light House
The third week of 'Jetwing - TV Times Vacation Competition' will feature 'Light House Hotel and Spa' in Galle.
This competition is organized by Jetwing Group of Hotels together with TV Times, in which TV Times readers can win lots of weekend vacations, dinner vouchers, gift vouchers, Spa treatments and many more.
This will enable our ardent readers to win their holidays by answering simple questions. All you have to do is to read the story and answer two simple questions given in the coupon below and post it to the address given.
All answers should be on TV Times Coupon No 3 and no photo copies are valid for the competition. All entry coupons should be pasted on post cards and sent to, 'Jetwing - TV Times Vacation Competition - 3', C/o TV Times, No 8, Hunupitiya Cross Road, Colombo 2 on or before October 27.
The winner will get a gift voucher for a special Spa treatment at the hotel.
Lighthouse Hotel and Spa is one of Sri Lanka's most sophisticated and modern destinations. Located on a hillock between the Galle Road and the Indian Ocean, just a couple of kilometres ahead of City of Galle, Lighthouse Hotel is another creation of world famous architect late Geoffrey Bawa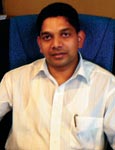 GM Chamin Wickremasinghe
Inspired by the Dutch influence in Sri Lanka, the hotel exudes a touch of history and class and offers guests an exquisite cuisine experience, a number of adventure excursions and a world class Spa.
Elimis Products, the name synonymous, with top Spas in the world are now available at Lighthouse.
'We have introduced this brand to our Spa, mainly to keep the world standards. We offer top spa facilities on par with world class treatments' said Chamin Wickremasinghe, the General Manager of the Hotel.
Massages, including anti stress head, neck and shoulder massage, Thai Yoga massage, 'Adam and Eve Serenity' (romantic couple massage), reflexology and aromatherapy are some of the popular treatments.
'Body works and Facials with herbal, honey and cucumber based treatments and three day packages are popular with overseas residence' Chamin said.
Spa Dining is also a popular attraction, where the 'Adam and Eve Treatment' will last long for a three hour with special spa based cuisine. This is the most expensive with US 350 tag and newly introduced after almost three year operation.
Hotel boasts of high quality 60 deluxe rooms and three Suites (Ibn Batuta - Moroccan Design, The Fa Hsien -A Taste of China and Spielbergen - The Dutch Suite).
All rooms are sea view with a private balcony or terrace and with all modern facilities including smoke detectors, direct dial telephone with IDD facility, TV with local and International Channels, Channeled Music, hair dryer with electric shaver, mini bar and personal safe.
Cardamom Café, the 24 hour restaurant is the main dining area and Cinnamon Room is for Fine Dining experience. Anchor Bar & Grill (Pool Side Bar and Café) and 'Coats of Arms' the bar with different style are some of the popular attractions of the hotel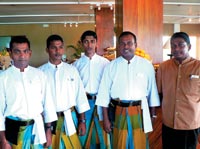 Culinary Team
'In addition to the regular menus being featured in the above restaurants, we now feature a 'Heart Healthy Food' menu for the benefit of those on special dietary restrictions' Chamin said.
Tea is a major player in the menu now and the hotel has introduced a special Tea Menu, simply to promote the world's best tea.
Breakfast Tea (Dimbulla BOP Breakfast Blend BOP), All Day Tea ( Kandy FBOP, Ruhunu OP), Afternoon Tea (Udu Pussellawa BOP ), After Dinner Tea (Uva Seasonal Best light FPEK, Uva Seasonal Best Dark),Green Tea, Organic Tea, Biodynamic Organic Tea and Flavoured Tea are top names in the tea menu.
'This is a new concept and it is getting popular. Foreigners are really keen on this and tour groups enrouted just for this special menu' Mr Wickremasinghe said.
Light House Nature Tour packages are the biggest attraction of the adventure tourists.
Kanneliya Forest Reserve, Hiyare Rainforest Park, Kottawa Forest Reserve,Yala nd Uda Walawe and Singharaja Rain Forest are popular places of visit and apart from that, Fort, trip to Mangrove Lagoon, Seashore Trail and Boat Safari come as history and nature tours.
'The residence naturalists is the main pillar behind this nature exploration'
Today we announce the very first winner of 'Jetwing - TV Times Vacation Competition - No. 1'.
The winner is Prashanth Ariyawansa 22 Division Headquarters, Plantain Point, Trincomalee.
Congrats Prashanth, you are the lucky winner of the Competition - No. 1'. You will get a voucher for two for over stay at Hunas Fall Hotel.
The Jetwing Office will get in touch with you soon.
The correct answers are Hunas Falls is situated in Matale District and the name of the falcon is Shaheen.
Keep on reading TV Times for more surprises.
Pix by Nilan Maligaspe