Dengue: The blame game goes on
Have a chat with anyone today. They will either know of someone who has been in hospital with dengue or themselves been a victim of this disease.
Why is it that Sri Lanka which has been battling this disease since the 1990s is still unable to control it and assure the public that the number of dengue cases and deaths has come down?
In the first quarter of this year (January to March), an unusually large number of suspected dengue fever and dengue haemorrhagic fever cases (2,821 cases and 7 deaths) had been reported, amounting to a three-fold increase when compared to the corresponding period of 2005, according to Epidemiology Unit statistics. The Western Province has accounted for 54% of the total caseload while the districts of Ratnapura 7%, Kandy 7%, Matara 6%, and Kurunegala 5% have shown a substantial increase.
A mother of two children, aged 12 and nine, had this traumatic experience this year. "In February my son who is nine was down with dengue and had to be in hospital for five days while my daughter got dengue in April and was hospitalized for two days. We thought the worst was over. But to our horror, my daughter was back in hospital 10 days ago," lamented this mother.
Leave aside the anxious moments parents have to undergo, what of the toll on the children's health? What of the lost hours, the trauma and also the cost of dengue? she asks.
When The Sunday Times contacted several local authorities who should be the primary bodies responsible for keeping the environment clean, collecting the garbage and also ensuring as far as possible a mosquito-free town or city, it was just a question of some of them, without accepting responsibility, attempting to pass the buck.
It seemed the easy way out for them - pointing the finger at the public as being responsible for the spread of dengue as they do not eradicate mosquito-breeding sites. However, the consensus among all the people was that local bodies were negligent and not carrying out the tasks expected of them, even though ratepayers faithfully paid their taxes. Garbage dumps in residential areas, failure to clean the canals, drains and other pits and potholes full of polluted water are directly or indirectly contributing to the breeding of mosquitoes, the public claims, adding that the local bodies should do regular checks of homes to see whether people have such areas. "If they do, then the house-owner should be penalized," one irate father said.
"Shramadana campaigns should be conducted and awareness programmes implemented in each Public Health Inspector's area to prevent the menace of dengue," explained Dr. K.S. Saranajeewa, Medical Officer of Health (MOH) of the Kotte Municipal Council.
"In addition, in Beddagana, a special project is being implemented for garbage collection. Under this recycling project, people in the area are provided with compost bins to which they can put the kitchen waste while door-to-door garbage collection is carried out for tins, containers, bottles and polythene products. This project will be extended to the Nawala area soon as the dengue rate in this area is rather high," he said.
The MOH of Dehiwala Mount Lavinia Municipal Council who declined to be named said that usually when there is an outbreak of dengue fever during June, July and August and once again in November and December, the Epidemiology Unit reports to the MOH to take necessary action such as clean-up programmes and awareness campaigns before the season starts.
"We have given the residents in the area a leaflet informing them of a date on which we would come to their house to collect the containers, coconut shells, tins etc. We have also launched a one-month programme where we have deployed 100 volunteers visiting houses in the area on Saturdays and Sundays to check if there are any mosquito breeding sites," she said.
However, when The Sunday Times contacted several residents in Mount Lavinia, Dehiwela and parts of Nugegoda, they were unaware of such programmes, with most complaining that the garbage was never collected and people had to carry their dirt all over the area looking for dumping sites.
Asked why spraying activities have been halted, the MOH said that it is filaria and not dengue that can be handled this way. "Fumigating also has bad effects, but if there is a sort of an epidemic where five or six people in the area have fallen ill, fumigating will be carried out," she said, adding that each family has to keep their premises clean. They do not pay much attention to their home gardens but expect the PHI to clean their gardens which is impractical.
With regard to garbage, the Additional Municipal Commissioner of Dehiwela-Mount Lavinia said the council has deployed two teams consisting of 20 people to carry out the cleaning of drains once a week and spraying activities once in two weeks. However, he said that on the part of the public, not much cooperation is forthcoming and spraying teams are not allowed to come into their gardens. Despite repeated requests to issue the garbage to the collectors who come to the houses, people still dump garbage by the roadsides.
"We clean the garbage on the roads daily so that the dengue mosquitoes would not breed, but there are instances where people tend to throw garbage on to the roads even after cleaning activity is done," he said. "People should look out for damaged drainage pits and ponds in their home gardens since these are possible mosquito breeding grounds."
Dr. Pradeep Kariyawasam, Chief Medical Officer, Public Health Department of the Colombo Municipal Council said that several measures were implemented to control the dengue epidemic, giving special attention to school-based-mosquito-control activities during the 1st quarter and the early part of the 2nd quarter.
"An awareness programme was conducted on March 16 at the New Town Hall auditorium, and was attended by more than 350 students and teachers from 63 schools. The participants were educated on the disease and its spread and their role in controlling this disease. Following this awareness programme, a school shramadana campaign and a house-to-house search-and-elimination campaign were conducted in a 250 metre area around the schools on March 31. The students were instrumental in this house-to-house search programme and the delivery of the message to the householders, requesting them to inspect the house and garden to remove potential mosquito breeding sites," he said.
"The 'Zero Breeding Site' programme was initiated from May 2 to 27, during the extensive dengue control month, to clean up the high-risk areas of dengue mosquito breeding sites and to reward and motivate the households with a clean environment. High risk areas by road were identified by the CMC Epidemiology Unit following analysis of the reported dengue cases from 2003. This programme included house-to-house visits, identification of breeding sites and on-the-spot education, penalties and rewards for the householders. Due to the evident success of the programme this campaign was continued to the next month as well," he added.
Meanwhile, the Director of the Lady Ridgeway Hospital, Dr. R. Wimal Jayantha told The Sunday Times that there is a slight increase in the monthly statistics of the dengue patients admitted to the hospital.
According to him, a patient with dengue fever may indicate different symptoms as there are many types. "There can be dengue fever with no symptoms at all. Also there can be dengue fever which is similar to viral fever with headaches and body pains but without internal haemorrhage. Another type is dengue with haemorrhagic signs -- bleeding from the gums, vomiting, patches," he said.
However, he said that one needs to be cautious of Dengue Shock Syndrome.
Signs and symptoms
High fever - up to 105 degrees Fahrenheit
Severe headache
Retro-orbital pain - pain behind the eye
Severe joint pains
Muscle pains
Muscle aches
Swollen lymph nodes
General weakness
Nausea
Vomiting
Rash
Children get non-typical symptoms
Where does the mosquito breed?
Dengue mosquitoes breed in stored, exposed water collection systems. The favoured breeding places are:
Barrels, drums, jars, pots, buckets, flower vases, plant-pots, tanks, discarded bottles, tins, tyres, water coolers and places where rain water is collected.
How does dengue spread?
Dengue is spread through the bite of an infected Aedes Aegypti mosquito. The mosquito gets the virus by biting an infected person. The first symptoms of the disease occur about 5-7 days after the infected bite.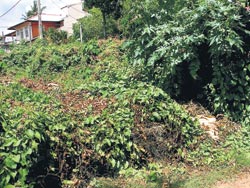 Sujatha Avenue at Kalubowila: A dumping ground
Complaints ignored, says resident
Although authorities claim they will take prompt action against those who do not heed notices to clean up their premises, my repeated complaints to the Dehiwela-Mount Lavinia Municipal Council about an overgrown land in the neighbourhood have been ignored, complained a resident of Kalubowila to The Sunday Times.
"When I called the Health Ministry they were clueless about what I was talking about and then I was asked to contact the Dehiwela-Mount Lavinia Municipal Council. When I complained to them, some medical officer there promised that they would come and have a look. But it has been one and half months since I have complained but to date nothing has been done. From the way it is going I don't think any action will be taken because everyone keeps passing the matter to others," she said.
She was upset that her body was covered with red patches due to mosquito bites and concerned that more than herself, a large number of children who come to her house for elocution classes in the evenings are in danger.