Germany puts pressure on Lanka, aid frozen
FRANKFURT- Germany has officially frozen any new aid for projects in Sri Lanka in a bid to put pressure on the government and the LTTE to get back to peace talks.
The German Ministry of Economic Cooperation and Development (BMZ) in a statement issued on Friday said Germany was increasing pressure on the conflict parties in Sri Lanka as it believed that without peace there could be no development.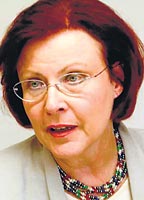 Minister Heidi
Wieczorek-Zeul.
"New commitments of more than 38 million euros, meant for projects in Government as well as Tamil areas, are therefore frozen until the peace process will be restarted. Already for some time several projects in the Tamil areas had to be interrupted due to security reasons as well as the EU listing of the LTTE as a terror organization," Minister Heidi Wieczorek-Zeul said in the statement
"For weeks we have been demanding an immediate return to the negotiating table and a shaping of a common future," Ms Wieczorek-Zeul. As long as both sides engage in intensive conflict, "it is not meaningful for the German government to commit additional funding that cannot reach the people of Sri Lanka".
"There cannot be a military solution to the conflict between the Singhalese and Tamils" the minister said. "The flare-up in the conflict since the start of the year has led to the deaths of thousands and displacement of hundreds of thousands."
Since previous demands to return to peace negotiations remain unfulfilled, the donors have to act now to increase pressure, so that the population, already suffering from the impact of the tsunami, could dare to hope, the statement said.
According to analysts, the decision of the Minister appears to have been prompted by an inability to implement projects in Sri Lanka. Since the start of the year, most of the North-East projects implemented by the GTZ (German Technical Cooperation) have had to be scaled down, with expatriate staff withdrawing to Colombo.
While such a decision has been expected by insiders for some time, its timing comes as a surprise, in a week of seeming progress towards peace talks at the end of the month, and the historic MOU between the SLFP and the UNP, crucially on the ethnic issue. Moreover, the phrasing of the conflict as one between the "Singhalese and Tamils" and the reference to "Tamil areas" in an official statement of the Government of Germany, might lead to some concern in Sri Lankan Government and diplomatic circles.