Sri Lanka's haphazard preparations for the World Cup are obvious
By Mahinda Wijesinghe
View(s):
Sri Lanka made, a not unexpected  ignominious debut at the 2019 Cricket World Cup now being hosted in England and Wales. Batting first in the opening game, the Sri Lankans were simply brushed aside by the New Zealanders on a batting friendly pitch, for 136 runs in 29.2 over. Skipper Karunaratne however carried out bat with a dogged 52 (84 balls). It was child's play for the New Zealand openers who cantered to the target in a mere 16 overs going at a rate of 8.5 runs per over.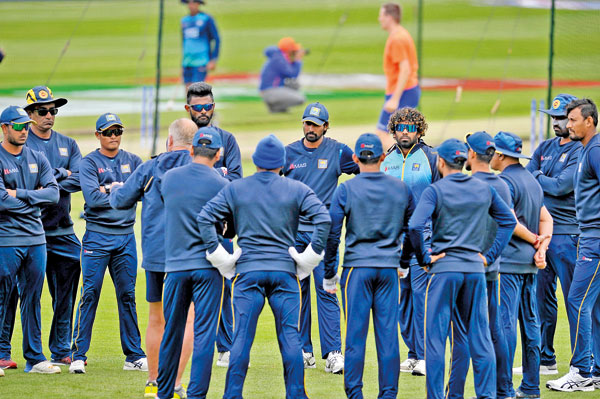 Our next encounter, against Afghanistan, hopefully redeemed Sri Lanka's reputation. Well, the game began really well for the islanders. Played at Sophia Gardens in Cardiff, the Sri Lanka openers Kusal Perera (78 in 81 balls) and skipper Dimuth Karunarante (30) put on 92 runs for the first wicket, and at one stage, the island batsmen recorded the best first power-play performance in the tournament – 79 for no loss.
In fact when the scoreboard registered 144/1, the possibility of a 300+ score seemed on the cards. Then came the stunning performance by off-spinner Nabi. In the 22nd over he captured 3 wickets in one over, by bowling Thirimanne (25), snaring Kusal Mendis (2) and having former skipper Angelo Mathews (0) caught in the slips for his second successive 'duck'. Paceman Hamid then dismissed Dhannajaya de Silva (0). Next, Thisara Perera (2) committed hara kiri being run out and finally Sri Lanka was all out for 201 – So much for a hopeful total of 300+.
In effect, Sri Lanka lost their last nine wickets for a paltry 57 runs – from 144/1 to all out 201. Rain intervened when Sri Lanka was at 182/8 until the dubious DL method was introduced on resumption. Now the target for Afghanistan became 187 runs in 41 overs.
Afghanistan began their run chase disastrously by losing half their side with the total at 57 until a useful sixth wicket partnership of 64 runs between Gulbadin Naib (23) and top-scorer Najibulla Zadran (43) revived hopes for the Afghans. Then Sri Lankan pacemen, Man of the Match, Nuwan Pradeep (4/31), and slinger Lasith Malinga (3/39) crushed the remaining batsmen to bring a hard fought win for Sri Lanka by 34 runs and prevented the embarrassment of losing to a nation that has received official ODI status 35 years after Sri Lanka. That is not all. For a nation that is beset with problems of terrorism and possess only 5 turf pitches in their country to have reached Full Membership of the ICC can be considered a great and commendable achievement by Afghanistan. Can these same bowlers perform against quality opposition?
In the game between Australia and Afghanistan which ended in a comfortable win for the former by 7 wickets with 91 balls remaining –Afghanistan openers Mohamed Shazhad and Hazrabullah Zazai were each dismissed for nought – but not to the first deliveries they faced. Interestingly, during the 2015 World Cup, Sri Lankan openers Lahiru Thirimanne and Tillekeratne Dilshan were each dismissed for nought in the very first deliveries they faced, – or Golden Ducks as it is known in cricketing parlance – but thanks to a brilliant century by Mahela Jayewardene, Sri Lanka pulled through to win by 4 wickets with 10 balls to spare. Do you know who the opposition was? Hold your breath, it was Afghanistan! That is another story for cricket aficionados.
Many questions now arise for the Sri Lankans since the next game – at the time of writing – is against Pakistan on 7th Friday. Sri Lanka has played 7 times against Pakistan during the previous World Cups and lost on each occasion. Pakistan has already made their intentions quite clear by beating England, after posting a total of 348/8, and beating the hosts by 14 runs. For Sri Lanka it is bound to be a long haul given their present form, or more correctly the quality of the team, being first crushed by New Zealand and then having had to stretch all their limbs to beat lowly placed Afghanistan. There aren't batsmen of the likes of a Sangakkara or a Jayawardene to support Sri Lanka unless our brittle top-order batsmen come to the rescue whilst our bowlers with a quality spinner nowhere on the horizon could control the balance of the bowling attack. Let's keep our fingers crossed.
Now problems about umpiring have arisen despite mod cons being available to them. There were instances during Sri Lanka's game against Afghanistan, when batsmen in the latter side, especially whilst taking the second run creased their bats 'short' and the umpires did not observe it. In the tight game between Australia and the West Indies, which the former won by 15 runs, commentator Michael Holding described umpiring as "atrocious" while West Indian Carlos Brathwaite described some decisions as "frustrating" and "dodgy" and suggested that the West Indians were on the wrong end of decisions more times than their opponents. Skipper Jason Holder echoed these sentiments. One glaring instance was when Umpire Chris Gaffaney missed a blatant front-foot no-ball from Mitchell Starc that "preceded the delivery that claimed the wicket of Chris Gayle". If the no-ball was called, Gayle would have been given a "free hit" on what was ultimately the wicket ball. The other umpire was Sri Lankan, Ruchira Palliyaguru.
Kumar Sangakkara's comments during all the games were easily the best and most enlightening though sometimes difficult to understand his articulation.
One does not expect success at a tournament such as the World Cup by preparing overnight. It has to be a long haul both at player and administrative levels. Sri Lanka seems to have failed at both levels. No wonder, the leading bookie, Ladbrokes offered 200 to 1 for Sri Lanka to win the World Cup 2019.
Even in 1983 when India won the World Cup in England the bookies only offered 66 to 1. The writer is not aware what the local bookies are offering Sri Lanka's prospects (or dreams?) of winning the 2019 World Cup.