Working towards a digital economy in Sri Lanka
View(s):

The National Youth Social Innovation Challenge, a joint initiative between the Ministry of Telecommunication, Digital Infrastructure and Foreign Employment (MTDIFE) and United Nations Development Programme (UNDP) kicked off in June this year, together with the National Youth Services Council (NYSC) and the Information Communication Technology Agency (ICTA).

UNDP's tried and tested social innovation hackathon – HackaDev will be further scaled up. The programme is aimed at giving effect to the realization of the vision of a Digital Economy in Sri Lanka and will put young people in the spotlight of achieving the Sustainable Development Goals at the national level. Following the approval of the Cabinet for the initiative, the initial phase of the programme was implemented in the latter half of 2017, where following a public call for applications for the National Youth Software Competition, 45 innovative teams participated at three clustered HackaDev events in Badulla, Matara and Jaffna. Subsequently, nine teams went through the first phase of incubation in Colombo and have received seed funding to further develop their ideas towards implementation.

The initiative this year which comprises four stages including an Ideation and Outreach Activation Phase, Idea Pitching Phase, Social Innovation Camps and Incubation for Further Development is aimed at empowering youth to generate innovative solutions to development challenges through improved engagement and participation in an ICT enabled society. It will garner the capacity of youth to actively engage in social innovation and will also trigger partnerships among a diverse group of actors to advocate for social entrepreneurship and build the innovation ecosystem in the island.

"The National Youth Social Innovation Challenge is an investment on the youth of our country as it equips young minds with the type of thinking required for Sri Lanka to progress towards achieving sustainable development," the Secretary of the Ministry of Telecommunication, Digital Infrastructure and Foreign Employment, Wasantha Deshapriya said.

The first session of the 'Ideation Phase' of the National Youth Social Innovation Challenge was conducted in Kegalle. Similar district level programmes titled a "Social Innovation Impact Town Hall and Workshop" targeting university students, NYSC youth club members, young entrepreneurs, vocational trainees and other youth are now being carried out.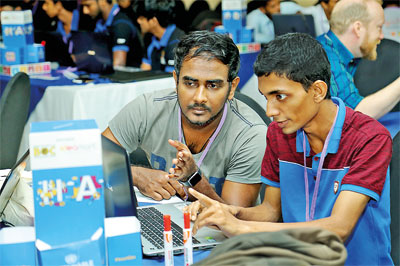 Highlighting the significance of the partnership with the Government, Country Director of UNDP Sri Lanka Jorn Sorensen, stated, "This year, the National Youth Social Innovation Challenge leverages the collective expertise of a wide range of stakeholders to reach a wider group of young people and foster their thinking to become innovators and entrepreneurs with significant social impact."
The National Youth Social Innovation Challenge 2018 is in partnership with Citi, Citra Social Innovation Lab and Youth Co Lab.