Amagi Beach: Sun, sand and seafood
By Sanath Weerasuriya
View(s):
Thalawilawella, a remote fishing village off Marawila was unheard till the late nineties. Nobody was really bothered to visit this beautiful stretch of beach until the touch of star class came to the life of the village in 1996.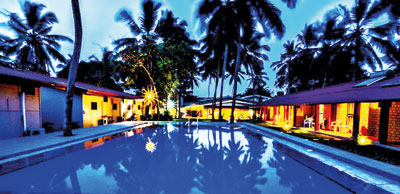 Amagi Beach was one of the pioneering hospitality projects, that turned Thalawilawella beach and Kurusa Palliya junction into a major tourism destinations. Since then many major tourism projects have come up to accommodate the demand.
Nestled by soft, sun-kissed sands and the deep blue ocean gently rolling in to meet the shore, Amagi Beach, Marawila provides the perfect island sanctuary. A much sought-after choice amongst Sri Lanka travellers to the region, this beachfront property is an ideal coastal haven for a romantic hideaway or a family fun holiday.
Amagi Beach, Marawila offers 26 cosy standard rooms comprising ten doubles, ten triples and six family rooms that can accommodate four to five pax per room. All rooms are well equipped and replete with an array of modern amenities for convenient and comfortable living.
'It was started as a just fifteen roomproperty, this area was known for coconut plantations, fishing and for toddy. When the tourism industry started to grow in the area, Amagi Beach Resort added another 11 rooms to its room category in 2016. From that point onwards it was a success story for Amagi' said Leister Noel Woods, the Resident Manager of the Resort.
Every sea view room has its own private terrace with a luxury king size bed coming with double or twin bed options and can also accommodate an extra bed upon request to convert into a triple bedroom. Each room is airconditioned with an attached bathroom and includes a tea / coffee maker, telephone, cable TV, hot and cold water and chairs on the terrace to relax and enjoy.
Amagi Beach prioritises the food and beverage experience offering two different dining options. The main restaurant, which accommodates up to 40 pax, creates a soothing atmosphere with a mesmerising ocean view while the beach terrace offers the finest in sea food. The beach is exclusively reserved for Amagi guests.
The Resort has all the necessary facilities to offer any dining options including fine dining, buffet, BBQ and snack type facilities around the clock. The Sunday buffet is one of the biggest attractions of the hotel for families with live music.
'The weekend lunch offer for Rs 1800/- is very popular with Sri Lankan clientele. Our specialty is Sri Lankan cuisine' Leister added.
The Amagi Beach stretch is set a midst one of Sri Lanka's unrestrained beach terrains, where the world's best seafood harvest is found and into made tantalising delicacies to please the most discerning travellers the world over.
'We are always ready to cater to the needs of our guests. We offer international cuisine from around the world. But the speciality is fresh catch from the sea. Guests can bring their fresh catch from the nearby beach and we are ready to cook it the way they want, while serving up authentic Asian delicacies and international favourites.
Also we offer theme nights and BBQ facilities on requests' explained Chef Eranga.
Amagi is a mere 20 kms away from the Anavilundawa bird sanctuary, one of Sri Lanka's Ramsar wetland sites. With the aim of providing guests a more wholesome experience, the resort also organises excursions to Wilpattu, the dolphin watcher's paradise Kalpitiya, and the Muthurajawela.
For more details call 0112233762, 768302124/26 or log onto www.amagihotels.com