Kerrigan sings to the glory
View(s):

Sri Lankan born popular Country and Western singer Kerrigan and Michelle La-Brooy of Australia won the 2018 Casey Volunteer Pair Award for their mind-blowing involvement in the Local Community and the amazing Gospel singing projects and community work they did for the year 2017/18. The Award Ceremony was held at Bungil Place recently.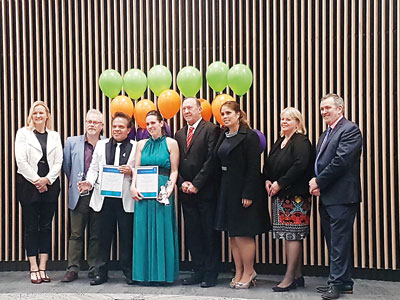 According to the Sri Lankan community based News service, this well-deserved recognition comes in appreciation of the ongoing contributions and sacrifices this La-Brooy couple makes for everyone around them.
Kerrigan is the Senior Pastor of Gethsemane Church which he planted in April 2017 in obedience to the Lord's Calling. He's also the founder and creator of Gethsemane Charity, which feeds and clothes over 400 people daily, 7 days a week. In addition to the Church & Charity, together with his wife Michelle and their 6 children (all 10 years and younger), the La-Brooy Family run a free Talent Academy, and an Opportunity Shop and they Host an Annual Event, the Clyde Carols by Candlelight.
Kerrigan and his wife work tirelessly, from way before sunrise to way past sunset. In fact, Kerrigan often operates on 2 to 3 hours sleep and 1 meal a day. Michelle supports her husband every step of the way and Kerrigan says he couldn't do it without her. Despite their hectic schedule, the couple fall more in love with each other every day and it's a delight to behold. They celebrated their 11th Wedding Anniversary on August 17th where they'll partake in the Annual Renewal of their Vows, completely dressed up as they were on their Wedding Day.
Kerrigan is quick to acknowledge the help and support of his congregation, Team Gethsemane, who give of their time selflessly and committedly to make all these services possible. In fact, including Volunteer Pair of the Year, Gethsemane Church was Nominated for 4 Awards at the Award Ceremony.