Singapore's 'A Land Imagined' wins Locarno's Best prize
By Susitha R. Fernando
View(s):
The 71st edition of one of the longest running film festivals in the world, the Locarno Film Festival set in the Southern Italian speaking city of Switzerland and held in the early weeks of August, came to a close with the introduction of many new faces to world cinema. The coveted Golden Leopard award of the festival was won by Singaporean director Yeo Siew Hua for his film "A Land Imagined".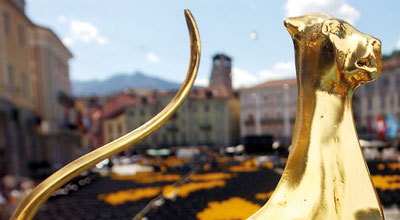 Closing the 71 edition and his sixth and last as the artistic director, Carlo Chatrian, referring to the leopard, the visual identity of the festival, said, "I have no doubts that the roar of the leopard will continue to be heard loud and clear. Wherever life's journey will take me, its echo will give me courage, reminding me that the cinema, like every other art, is an ode to the freedom of expression,".
Carlo also said that "Locarno71 was a rich and diversified edition, just as it is in the tradition of a festival which is not afraid to approach extremes and to combine a smile with reflection. The guests who brought their experience and congeniality, were joined by new ideas that were well received."
The official international jury of the 71st Locarno Festival was comprised of filmmakers Jia Zhang-ke (China)–as the president–Sean Baker (USA) and Tizza Covi, (Italy, Austria), writer Emmanuel Carrère (France), and actress and playwright Isabella Ragonese (Italy) .
While the main award 'Pardo d'oro' or Grand Prize of the Festival 'A Land Imagined was won by Yeo Siew Hua, (Singapore / France / The Netherlands), 'Premio Speciale della Giuria' or Special Jury Prize was awarded to 'M' directed by Yolande Zauberman, France. Among the other main awards were Pardo for Best Direction for 'Tarde Para Morir Joven' by Chilean filmmaker Dominga Sotomayor, Pardo for Best Actress (Pardo per la miglior interpretazione femminile) for Andra Guti for her role in 'Alice T' directed by Radu Muntean (Romania) , Pardo for Best Actor (Pardo per la miglior interpretazione maschile), KI Joobong for 'Gangbyun Hotel' (Hotel by the River) by Hong Sangsoo, South Korea,
Under the category of 'Signs of Life', the Best Film was awarded to 'Hai Shang Cheng Shi' (The Fragile House) directed by Lin Zi, China. Swatch First Feature Award (Prize for Best First Feature)–presented as international or world première in all the Festival sections was awarded to 'Alles Ist Gut' by Eva Trobisch.

Pardino d'oro for the Best International Short Film was awarded to 'D'un Château L'autre' by Belgian director Emmanuel Marre.
Piazza Grande Prix du Public, award selected by the public who visited the majestic Piazza Grande — Europe's biggest open air cinema theatre which could accommodate up to 8000 patrons — was won by Spike Lee's 'Blackkklansman'.
The Variety Piazza Grande Award, a selection by a jury composed of several critics attached to the renowned cinema paper Variety who attended the Festival and goes to a film screened in the Piazza Grande programme as world or international premiere was won by 'Le Vent Tourne' by Bettina Oberli. According to the festival organizers the prize is awarded to a film that stands out for both its artistic qualities and its potential for theatrical release.
FIPRESCI Prize (International Federation of Film Critics) in which the jury comprised Kristin Aalen (Norway) Teresa Vena (Germany) and Denise Bucher (Switzerland) was won by 'Sibel' by Çagla Zencirci and Guillaume Giovanetti.