Getting fit the Crossfit way
Raj Moorthy caught up with CrossFit Ceylon Co-Founders Andy Andrews and Alexandria Senanayake to talk about the CrossFit culture
View(s):
CrossFit Ceylon, a brand new CrossFit gym opened its doors last month in the heart of Colombo in Slave Island. The gym founded by four enthusiastic CrossFit Certified Coachers Andy Andrews (Head Coach), Alexandria Senanayake, Rakhil Hirdaramani and Dimitri Sheriff. The gym is equipped with Rogue Fitness, the official equipment supplier to the Global Reebok CrossFit Games.
Andy explains that CrossFit is a methodology of 10 recognized fitness domains; strength, power, speed, agility, accuracy, cardiovascular and respiratory endurance, stamina, flexibility, coordination and balance. All its programmes are designed and balanced including all ten domains in order to be fit. CrossFit in a nutshell we are told is balancing the 10 domains and while the rules may change the principles remain the same.
Andy also mentioned the teams hopes of setting up 10 -15 CrossFit gyms in Sri Lanka in the next few years with CrossFit Ceylon establishing its footprint here.
CrossFit was founded by ex-gymnast Greg Glassman from California in the US in 2000. He tested a few fitness techniques when he was young and later became a personal trainer. He trained his clients through the methodology that he had developed by testing gymnastics. Glassman defined what fitness is all about with language, methodology and protocol to broaden the base of fitness. Today US Navy, US fire squad train CrossFit and started implementing this programme.
On the training aspect Alexandria Senanayake elaborated that anyone who joins CrossFit Ceylon newly are tested with benchmark workouts. "From day one we train them through variance for six months and then their workout is retested. We see whether they have become faster, can lift heavier weights and if their movement has improved. Through measurable and observable data we determine whether they have become fitter or not. For anyone joining the gym with no experience or who have not stepped into a gym, we don't test them to see whether they are fit or not, but we make them fit through our programme. They have to fill a health waiver form and disclose their injuries and so that our coachers know how to scale the workout for them. Everybody does the same workout. We just modify it for the person who has an injury or may have given birth," she added.
The fundamentals programme at CrossFit Ceylon runs for two weeks, six one-hour sessions on Monday, Wednesday and Friday in the morning or evening. It's not so much of a classroom setting. Simple things like a squat is done to observe the movements.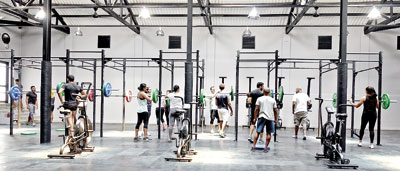 CrossFitters' physiology changes based on the stress they put on their body. There is no way for the body to not change in shape. Among its benefits we are told CrossFit helps people overcome stress, depression, anger not only mentally but also physically, mentally and emotionally.
"The fitter you become, the less likely you fall sick. People must invest on building their body when they are young. To be fit and do things on your own when you're older, you need to start working on it from now on," Andy stressed.
It has been a decade that CrossFit was introduced globally and Sri Lanka is catching up slowly since 2013. There are 14,000 CrossFit affiliates globally and CrossFit Ceylon is one of them, Alexandria noted.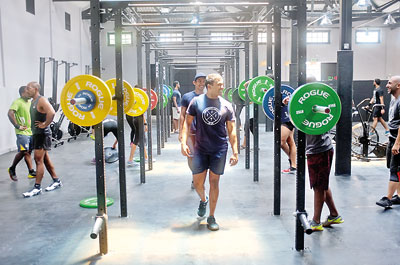 She further explained that CrossFit has many things to learn and to apply to day-to-day activities. Lifting weights and building muscles is good, but that's not all about fitness. Convenience has also caused people to become lazy. Its instant gratification, not doing anything. "Our DNA is made to move and our brain is developed to move, it wasn't developed to intellect, but it has become one. Our brain function increases with movement. The more skills you learn, the better the brain works. If you don't move, you will not tap your true potential," she says.
To learn more contact Crossfit Ceylon, No. 50/14, Sir James Peiris Mawatha, Colombo 00200 or contact them on wodup@crossfitceylon.com.