Casual French dining with 'Baguette'
By Tarini Pilapitiya
View(s):
Founded by French native Nathalie Pujolle in July 2016 Baguette.lk is now saying Bonjour to the busy streets of Havelock road. A cosy corner opposite the Police Park, Baguette,lk is an ideal stop for mouthwatering breads, pastries, desserts, condiments and beverages.
Having moved away from their still running production facility in Kohuwala, Nathalie shares "this is the first time we have had a location of our own," after having previously been a supplier to some major restaurants and stores in the past.
At their new outlet, currently open for the past 3 months, Baguette is what one can only envision a French eatery to resemble. Open glass casings which house a range of goodies, dainty seating arrangements make this egg white colored café an oasis from the busy congestion of the streets of Havelock.
A gold mine for bread lovers, this gourmet European bakery offers a range of breads from Sourdough (naturally leavened dough), to Enriched (with fat, egg and/or sugar), and Speciality (various flours) selections. All Products are priced between Rs. 100 to Rs. 600, Nathalie and her team are not stinging out on quality allowing customers to get their money's worth.
Specializing in the art of making bread with a crust, the café's abundant variety hosts gems like the Baguette, Rustique bread, Focaccia, Bagels, variations of the Vienna bread, brioche loaf, Barley Pumpernickel, rye etc.
Nathalie comes from a family of orthodox French native food enthusiasts specializing in oenology she shares with a laugh "I am a foodie at heart".
Her work took her overseas on many occasions, having previously operated with high end hotels in places like Tokyo, allowed her to have an in-depth understanding of the food network. Landing in Sri Lanka in 2013 Nathalie did extensive research on the local market, acquainting herself with the growing Sri Lankan food industry.
"I noticed that people were trying to get into eating healthy bread," she shares adding "I immediately started looking for ways to seduce people with a subtle taste and a healthy outcome." Seeing an opening in introducing quality bread to Sri Lanka Nathalie immediately started operations in 2013 with Baguette.lk.
Good bread tends to give people a feeling of home, on entering Baguette.lk this statement is in its truest form, from the aroma of the intoxicating smells of fresh bread. A gastronomical experience, Baguette.lk's melting pot of German and French delicacies with a sprinkling of local fusion makes the products a must try.
With a strict no preservatives policy Baguette makes artisan breads and products with core materials like flour which Nathalie imports from a German flour mill from the inception of her café. She has also recently started importing wheat flour and stone ground flour from a French mill, which she hopes to introduce in new products due to its high nutritional value.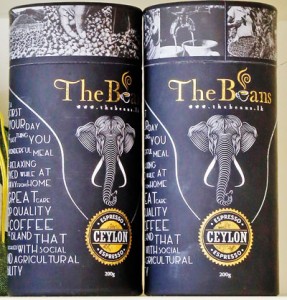 "If customers come here I can open the books and tell them the story of Baguette," Nathalie openly shares. "My policy is transparent," she states readily available to answer customer questions on products etc. Other ingredients like the wheat, rye, barley etc are materials which Baguette also doesn't locally procure. Another strong point which Nathalie shares constitutes to the success of her products is the cafes use of natural yeast, which plays an active part in helping consumers digest the bread.
For example Sourdough bread, one of her most in-demand products, has an extremely high nutritional value. Sourdough has always been a favorite in Nathalie's life as she shares, "I remember growing up in France and when we travelled to the countryside people would make or buy bread from the baker at least 2 kilos of bread which they would keep for a week!". The farmers in France who turned their nose to industrial, processed white bread would find many uses for their healthier loaves. "Every day was a new experience with the bread," Nathalie shares dreamily "you toast it, soak it in your soup, the bread lied with people throughout the week!"
Operating in Sri Lanka Nathalie has tweaked her products to make an Indo-European fusion to classic breads whilst eliminating the unwelcome unhealthy feeling of consuming bread. Customers can thus guiltlessly sink their teeth into a range of breads, savories and confectionaries.
Along with the newer breads like the Rustique bread, the cafes namesake the Baguette still proves to be one of their best sellers to date. The hard, crust of dark almost caramel colour with a slightly chewy, soft and almost nutty flavor makes the Baguette a staple accompaniment for any meal or occasion. However one bite of any of the bread options not only does makes one's taste buds sing but seduces us with a golden, brown crust that crackles on first squeeze – making literal music to ones ears.
The Cafe also offers a savory, pastry and confectionary range.
As ubiquitous as a croissant is these days, the pastry can be rather disappointing. However at Baguette the croissant has become a hero for simple breakfast or afternoon tea. Served as either a sweet or savory option this flaky Viennoiserie pastry, best served hot, gives a perfect buttery balance in every later of the flaky crescent shaped delicacy.
Other classics include brioches, authentic French macaroon, Calzones, Pies, Tarts ladled with an abundance of nuts, Danishes, cookies, quiches, brownies etc. Products are constantly rotated so if you are visiting with buying something specific in mind its best to call in advance. The café has also introduced the infamous Sacher Torte – a delectable, dense chocolate cake with a thin layer of jam and a rich chocolate glaze. Baguette has also catered to public demand by offering a simple, cozy breakfast option of 1 pastry, 2 baguettes, 1 Jam, 1 French butter for Rs. 600.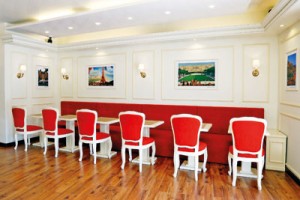 To date Baguette's open door policy still stands. Nathalie, who is usually available at the café, is frequently attempting to educate and challenge her customers on their bread eating habits. Feeding the curious and the hungry Nathalie challenges her customers with new breads and baked goodies, producing sophisticated Intel and appetites on the bread consuming public. "I think I've managed to convert a few people," Nathalie chuckles.
In future, Nathalie hopes to introduce "hot cooked meals," at her café having received a demand for a sandwich making station etc. "I want to make casual French dining known to Sri Lanka," she shares. From her spectrum of bread Nathalie even caters to those with health problems like Diabetes, advising them on what options are best suited for their diets ensuring that anyone can enjoy her product. "I want my job to be gratifying to people," Nathalie shares adding "It's a business attached to my core values".
Baguette.lk has opened their latest outlet No. 62, Havelock Road, Colombo 05. For more information be sure to check out their website http://www.baguette.lk or https://www.facebook.com/baguette.lk