A shared passion
By Nirmalie Alahakone
A group of thirteen, held together by many common interests, but mainly photography, come together for the fifth time to present their exhibition of creative photography titled InFocus
View(s):
The exhibition of creative photography – 'InFocus' will open at the Lionel Wendt Art Centre on the 18th of May with veteran film actor/director Mr. Ravindra Randeniya as chief guest. The exhibition will be open for public viewing on May 19 and 20.
InFocus is presented by a group of talented professionals who have found common purpose through their passion for photography. "The photographs won't be on one theme. Because we are a diverse group, with diverse interests," says Mani Rajkumar. "Also, because we are not photographers by profession. So this is everyone's hobby. What piques our interest is varied," adds Shiraz Hamid, who heads Global Distribution in the airline trade, and is passionate about wildlife and nature photography.
The exhibition will include 156 colour and monochrome images covering a variety of genres including nature and wildlife, people and places, street captures, culture and landscapes. These photographs, taken by the group of 13 over the last year, have been shortlisted by the 3 judges Mr. Panduka De Silva, Mr. Henry Rajakaruna and Mr. Ravindra Ranasinghe.
The group all started out as students of Panduka De Silva, Academic Director of the Photographic Society of Sri Lanka (PSSL) and then stuck together throughout the years bound by their shared interest: photography. The group includes a father-son duo, and a husband wife duo. "We meet and go on trips together, we enjoy having a meal or a drink together. It was on one of our trips, on the train, that we came up with the idea of a book comprising our photos taken locally," says Nayomi Thomas, an Executive Secretary with a passion for street photography. "We will be launching the book at our exhibition."
The book contains beautiful pictures of Sri Lanka covering various aspects of Sri Lankan life such as its culture and heritage, nature and wildlife, and people and places.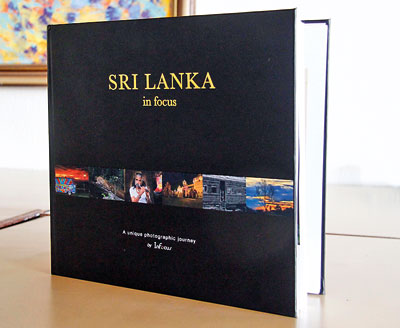 Titled 'Sri Lanka In Focus', the coffee table book will consist around 250 photographs in colour and monochrome. The group believes that this book, which brings Sri Lanka into focus through photographs, will be a useful souvenir for visitors to Sri Lanka interested in its beauty and heritage.
It is available at a pre-launch promotional rate of Rs. 4,500 until May 17 and thereafter at Rs. 6,000.
Several of the photographs on display have gained recognition and accolades when competing at National and International competitions and salons.
"Reception at our exhibitions has been building. We got about 1,000 visitors last year," says Nayomi in response to a query. "But you know, it's not a commercial venture.
This is our passion." Her fellow photographers nod in unison.
InFocus team at a glance

 Niroshan Perera – Senior Bank Manager with a special interest in wildlife and nature photography 
 Prasada Goonaratne – IT professional with an interest in action, street and wildlife photography 
 Mahin Wimaladharma – Dental Surgeon by profession with an interest in all genres of photography 
 Nayomi Thomas – Executive Secretary with a passion for street photography 
 Shiraz Hamid – Heading a Global Distribution in the airline trade, passionate about wildlife and nature photography 
 Stuart Chapman – Corporate CEO whose passion is to showcase the human spirit and beauty of nature through photography 
 Nalake Fernando – Company Director with an interest in portraits, especially children 
 Nalinka Abeysinghe – Entrepreneur. His photographic style captures moods and beauty of the wild 
 Bandhula Ekanayake – Management and Hospitality Consultant with a keen eye for nature and a love for Sri Lankan culture & heritage 
 Salika Peiris – Finance Manager in airline accounting with an interest in nature and travel photography 
 Mani Rajkumar – Wholesaler in the garment trade with a keen eye to capture moods in people 
 Vinee Thomas – Banker with an interest in street photography 
 Lashan Ekanayake – Associate in the accounting field, with an eye for detail and contrast in photography from a unique perspective