Has Coach Ford abandoned ship?
By S.R. Pathiravithana
Gura likely selection committee chief if Sanath is ruled out
View(s):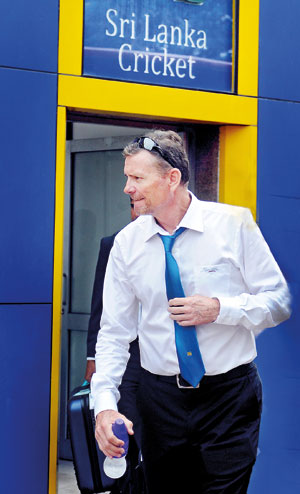 All points to a situation where former Sri Lanka Test batsman Asanka Gurusinha, who at present is Cricket Manager and a selector of Sri Lanka Cricket, will be taking over as the Chairman Selection Committee.
A veteran of 41 Test matches with seven Test hundreds and eight Test fifties ended up scoring 2452 runs and with two hundreds and 22 fifties in 147 ODI outings is nevertheless remembered for his stubborn stance at slot number three in the World Cup winning outfit.
Especially, he became immortal with his knock of 63 which enabled Sri Lanka to seal the fate of the ICC World Cup final against Australia in 1996.
He made his international debut in 1985 against Pakistan in Karachi as wicket-keeper. Yet, he made his mark as a top order batsman. He had also opened bowling for Sri Lanka with his slow seamers time and time again.
The present critical situation arose after incumbent Chief selector Sanath Jayasuriya ran himself out of contention due to a multitude of reasons. However it is also learned that Jayasuriya and SLC President Thilanga Sumathipala were involved in an lengthy discussion on Friday afternoon,  the outcome of it is yet to be known.
In the same breath speculation was rife about the future of the National Cricket Coach Graham Ford. The Sunday Times learns that when coach Ford left for South Africa for a break he packed his bags lock stock and barrel. He also had had several rounds of discussions with the SLC management.
An insider said "Yes, we would begin our training under Asanka Gurusinha as Ford is now out of the island".
It is also said that generally Ford leaves for a vacation only with the necessary minimum travel gear.
Sri Lanka Cricket Chief Executive Officer Ashley de Silva told the Sunday Times that the tenure of the present cricket selectors would expire on June 30 and they were on the lookout for new eyes. However, out of the rest who are in office – Romesh Kaluwitharana and Eric Upashantha are still in contention while Ranjith Madurasinghe has been moved to be in charge of junior selections.
A few days ago, Asanka Gurusinha who has been domiciled in Australia for the past 20 years, and is an Australian citizen was recruited by SLC President Sumathipala to be put in charge as National Cricket team's cricket manager and selector. This means that the earlier practice of sending a member of selection committee as tour selector has been made redundant.
The post of manager cum selection committee chairman is not new to Sri Lanka. In the 1996 World Cup winning combination, former national captain Duleep Mendis did both jobs as manager cum selection committee chairman.
However in the present context it may be difficult to continue as chief selector cum manager because, the chief selector is in overall in-charge of selections and it encompasses junior cricket too.
If Gurusinha is made chief selector and Ranjith Madurasinghe is moved to be in charge of junior selections, at least two vacancies would crop up. There were a multitude of names put in to the
potpourri.
Initially, a strong contender was Hashan Tillekeratne, one of the SLC staff batting coaches. However, as both Tillekeratne's children are in the national cricket periphery, that has become a barrier in the present context.
It is learned that names like the present national cricket manager Ranjith Fernando, former National Coach Marvan Atapattu, Brendon Kuruppu who was a member of the Kapila Wijegunawardena selection committee and even first national captain Bandula Warnapura were bandied about, but, it is said the final preferences have still not been finalised.